Dr Tahir H Tanoli felicitated on PhD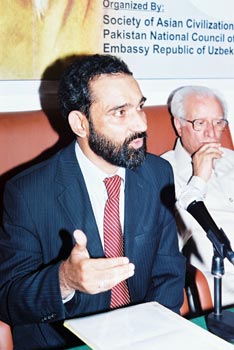 The University of Education, Lahore, has awarded PhD degree on Tahir Hameed Tanoli, Director Research at FMRi, in Iqbalayat. He completed his thesis on the subject of "Analytical Study of Conflict between East and West in the Light of Iqbal's Thought." Dr Muzzafar Abbas, a renowned researcher, scholar, educationist and expert on Iqbal, was his supervisor.
In his PhD thesis, Tahir Hameed Tanoli dealt with the research question of introduction of civilizations, nature of their interaction, analyses of thoughts of contemporary western scholars, attributes of Islamic civilization and its role in the history of the world, reasons of contemporary civilization conflict and its solution in Iqbal's thoughts.
Dr Tanoli also identified fourteen flaws in the Huntington's Theory of Clash of Civilizations, which is responsible for the present stalemate in relations of different civilizations. This research surely constitutes a development in the context of efforts to eliminate civilization clash.
It may be relevant to mention that Dr Tahir Hameed Tanoli has already earned a PhD degree from a Sri Lankan University on the thesis of "Anxiety Management in Islam."
Shaykh-ul-Islam Dr Muhammad Tahir-ul-Qadri, Dr Hassan Mohi-ud-Din Qadri, Dr Hussain Mohi-ud-Din Qadri, Dr Raheeq Ahmad Abbasi, Faiz-ur-Rehman Durrani, Sheikh Zahid Fayyaz, G.M. Malik, staff members of MUL and FMRi have felicitated Dr Tahir H Tanoli on completion of PhD.
They prayed for his greater success.