Dr Muhammad Tahir-ul-Qadri condemns attack on Malala and other girls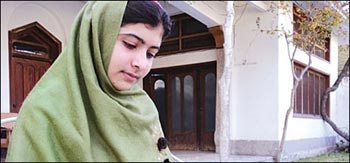 Shaykh-ul-Islam Dr Muhammad Tahir-ul-Qadri has strongly condemned the brutal assassination attempt on the life of Malala Yousafzai and her fellow students on Tuesday. In a statement, he denounced those who resorted to attacking innocent girls, adding that this reprehensible act of the misguided elements was indicative of the fact that their end was near.
Dr Muhammad Tahir-ul-Qadri said that Malala Yousafzai stood for education and peace and through her persistent struggle, she emerged as a great ray of hope for other children of the country. He said that people like Malala were role model for their counterparts and harbinger of change.
Dr Tahir-ul-Qadri said that she achieved so much at such a young age, which gave one an idea of her talent, capabilities and sense of purpose. By attacking Malala, the terrorists wanted to destroy the idea she espoused. But they should understand that such heinous acts would not scare the youth and the students but rather strengthen their resolve to take on anti-education and anti-peace elements.
Related Links