'None Of The Above' option too little, too late: Dr Tahir-ul-Qadri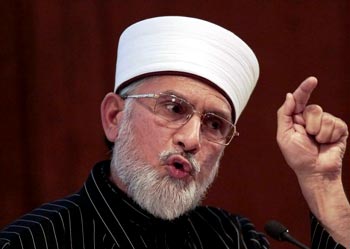 Commenting on the insertion of 'None Of The Above' option in the ballot paper, Dr Muhammad Tahir-ul-Qadri has described the move as too little, too late with no consequence. He said that democratic spirit and principles were being violated with abandon, adding that accepting one part of the demand package did not carry any importance. He made it clear that protest sit-ins would be held on the polling day in every case. He said that Pakistan Awami Tehreek would continue to wage its struggle aimed at raising public awareness against the ills of electoral system and that would best be reflected in the form of sit-ins on the polling day.
Dr Muhammad Tahir-ul-Qadri expressed these views while talking to Qazi Faizul Islam, central Secretary Information telephonically yesterday. He said that democracy was being crucified openly, while the courts and the Election Commission were tight-lipped about it. He said that some unknown people would be brought to book to hoodwink the masses with a view to paving way for the big fish to sail through the pre-poll clearance process easily. He said that the worst kind of horse trading would take place after the elections, not witnessed in the history before as the parties would vie to outshine each other in winning over 'elected representatives' to their side. He said that the nation would come to know about the nature of democracy once that market was opened.
Dr Tahir-ul-Qadri said that PAT rejected the system wholly for the sake of prosperity, progress and survival of the country. He said that our struggle was not against voting but against corrupt electoral system. He said that the ECP would try to show itself as well wisher of the nation by disqualifying some less known individuals. He said that tax evaders and loan defaulters were given complete freedom in the nomination forms and only the most incompetent of the lot would be caught who would not even get stay on the cases.
Dr Qadri likened the present system to obsolete and dilapidated building which was posing a serious threat to the nation. He said that the building needed to be razed down and rebuilt, adding that efforts to repair it would only end up having the nation under its debris. He said that he was forewarning the nation that casting vote under the present system would be a crime. He asked the nation to attend PAT's peaceful and democratic sit-ins and record their disapproval of the system.