Scrutiny process rendered meaningless: Dr Tahir-ul-Qadri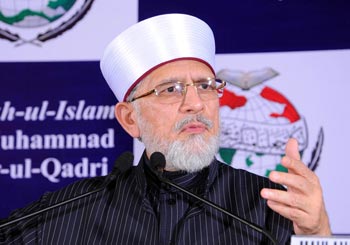 Dr Muhammad Tahir-ul-Qadri, the leader of Pakistan Awami Tehreek, has said that politics of corruption, plunder and partisanship is rendering the foundations of the country hollow and this explained why PAT raised the slogan of 'save the state, not politics'. He said that Election Commission, NAB, FIA, FBR and State Bank were the national criminals with Election Commission topping the list. He said that four members of the ECP were loyalists of political parties.
Dr Tahir-ul-Qadri expressed these views while talking to Dr Raheeq Abbasi telephonically from abroad.
Dr Qadri said that NAB possessed records of corruption of the President, Prime Minister, Ministers, bureaucrats down to MPAs and MNAs but it did not forward the record to ROs by design. He said that likewise State Bank and FBR also did not furnish the lists of tax evaders and loan defaulters. He said that the officials manning these organizations were appointed by the politicians and the latter were authorized to order transfers, postings and promotions of the former, adding that officials did not want to appear on the wrong side of powerful political elite once they knew that the same lot would be returning to power again in a span of weeks. 'These officials preferred to protect their jobs than perform their responsibilities,' he held.
Dr Muhammad Tahir-ul-Qadri said that the current electoral system was the biggest enemy of honesty, trust worthiness, clean politics, rule of law and justice. He said that an official of Information Management System of the ECP submitted a statement in the Lahore High Court in which he admitted that the State Bank and FBR did not furnish lists of tax evaders, loan and utility bill defaulters during the process of scrutiny.
Dr Tahir-ul-Qadri said that the Returning Officers did not have these lists available with them and that is the reason why they did not invoke Article 63, while Article 62 was made fun of. He said that historic sit-ins of PAT on the polling day would lay the foundation-stone for real democratic change in the country. He said that it was national responsibility of every Pakistan to struggle against corrupt system. He asked the people to attend PAT's sit-ins instead of sitting idle at home.