Govt. resort to violence will only hasten revolution: Qadri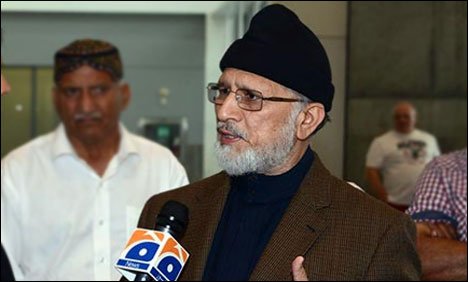 LONDON: Pakistan Awami Tehreek (PAT) chief Dr. Tahirul Qadri Sunday said that if the government takes recourse to violence on his arrival in Islamabad, it would only hasten revolution, however, he assured there was no threat to democracy, Geo News reported.
Prior to leaving London for Islamabad via Dubai, Dr. Tahirul Qadri told media that if the government resorted to violence, then the revolution would take place on the same day. He asked what the government was afraid of? The citizens are being stopped from moving about. Our workers do not want to indulge in violence, he said.
Dr. Tahirul Qadri further said that he was not in contact with anyone and whosoever he was in contact it was through the media alone. He said he wanted to proceed to Lahore peacefully.
Source: http://www.geo.tv/
Source : http://www.geo.tv/article-151535-Govt.-resort-to-violence-will-only-hasten-revolution-Qadri-