Qadri denies military backing
Says he wants to topple corrupt system, not govt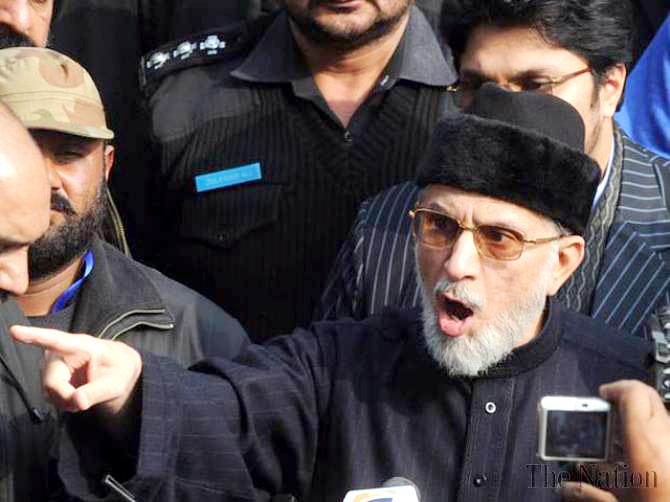 LAHORE - Pakistan Awami Tehrik chief Dr Tahir-ul-Qadri said that he could oust the incumbent government in a blink of an eye but this was not his agenda, rather he wanted to end the corrupt system.
He was talking to media after the inauguration of memorial for the martyrs of Model Town tragedy here on Friday. He said the rulers would soon bite the dust. He said had Model Town like tragedy happened in any democratic country, assemblies would have been dissolved there, but the rulers turned a deaf ear. He said he was not scared of any investigative institution. He said it did not make any difference if his assets were checked by 100 FIA-like institutions. He said that he had been living in a house of one kanal with his sons. He said the current rulers were involved in money-laundering and would hold them accountable after the revolution. Dr Qadri criticised the international human rights organisations for keeping mum over the Model Town incident. He said Chaudhry Brothers of the PML-Q were his friends, and Ch Shujaat Hussain would be the in-charge of political contacts till last moment of the revolution. He said he never talked about any grand alliance because such alliances gave birth to political conflicts. He said 'Hitler of Islamabad and Mussolini of Punjab', who have lost their mind out of power, would be kicked out with the power of the masses and the power would be dissolved to the people. He said the revolution was his destination and he would not take any U-turn.
Meanwhile, PAT chief Dr Tahir-ul-Qadri also led a rally at the party secretariat to show solidarity with the Pak Army and in favour of operation Zarb-e-Azb. The rallies were taken out in more than 60 cities of the country under the PAT banner. Addressing the rally participants, the country.
In an interview with Reuters, Qadri denied widespread speculation he is backed by the powerful military. "I will fight against the Pakistan army if it tries to take over," Qadri told Reuters, but stopped short of giving details of how he would do this. "I am against military rule. My destination is true democracy," he added, speaking in the sitting-room of his heavily guarded home, surrounded by aides and pictures of Muslim holy sites.
On Thursday, he renewed his calls for a peaceful revolution, but was coy about his strategies, timing and ultimate goals."I will achieve my goal just through the struggle of the masses," he said. "They will come out on the roads and will force the rulers to resign." Qadri wants the elected government to resign over accusations of electoral fraud, but is unclear exactly how its replacement would be chosen. "I want neither mid-term nor long-term elections," he said. "I don't want anything which is not legitimate. My concerns are true democracy, fair elections and human rights."
Qadri's long speeches calling for political reform - punctuated by detailed constitutional references - may strike less of a chord among Pakistanis than his outrage over daily power cuts, high unemployment and inflation. "Corrupt rulers are making money instead of resolving people's problems," he says. Parliament, stuffed with wealthy lawmakers who pay neither taxes nor utility bills, is one of Qadri's favourite targets.
In response, the country's Federal Investigation Agency announced this week that it would scrutinise Qadri's affairs. Qadri has sworn not to be deterred. "I want rule of law, equality between poor and rich, men and women and Muslims and non-Muslims," he said firmly. "I will continue my struggle until the goals are achieved."
Sardar Assef joins PAT
In a surprise move, former Foreign Minister Sardar Assef Ahmed Ali on Friday announced joining Pakistan Awami Tehrik (PAT) during a meeting with party chief Dr Tahir-ul-Qadri at his residence. Sardar Assef is the first prominent political figure who joined PAT. After parting ways with PPP, Sardar joined the Pakistan Tehrik-e-Insaaf (PTI). However, Sardar also left PTI when Imran Khan awarded the party ticket for NA 140 to Khurshid Kasuri, despite an earlier commitment to Sardar Assef. He contested the May 2013 election as independent. Talking to media men after meeting, Sardar Assef Ahmed Ali said that democracy had become slave of some families in Pakistan. He said he agreed with the 10-point agenda of Dr Tahir-ul-Qadri. He said Model Town tragedy was shameful more than Jallianwala Bagh massacre. He said Punjab police had become militia of Sharif family. He said that Shahbaz Sharif had become sign of danger for Pakistan.
He also said wasting of eight months in talks with the Taliban, who were killer of 60,000 innocent Pakistanis, was not justified.
He said he paid tribute to the families of Model Town tragedy victims. He said blood of innocent people, who were killed by police in Model Town, would not go waste.
Meanwhile, Lahore High Court Bar Association delegation led by its President Shafqat Chauhan visited the PAT headquarters and met with Dr Tahir-ul-Qadri.
Source: www.nation.com.pk
Source : http://www.nation.com.pk/lahore/28-Jun-2014/qadri-denies-military-backing