August 10, to be marked as 'Martyrs Day, start of Revolution': Dr Qadri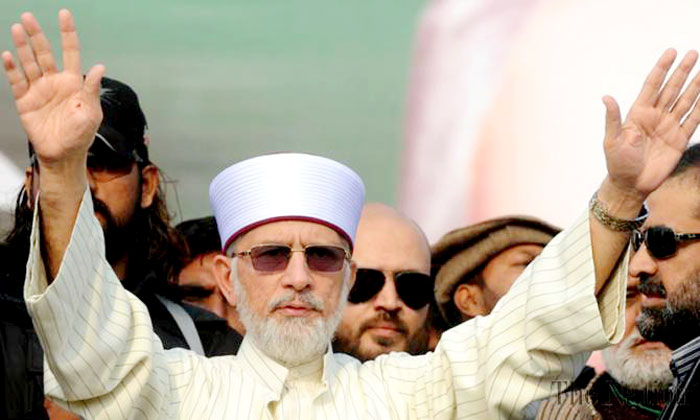 LAHORE- Chief of Pakistan Awami Tehreek (PAT) Dr. Tahir-ul-Qadri has announced to observe Yaum-e-Shuhada (Day of Martyrs) on August 10 to pay tribute to those martyred in Model Town of Lahore in June and beginning of 'Green Revolution'.
The Leader of Pakistan's Green Revolution, Dr Qadri announced this while addressing a General Council Meeting at Pakistan Awami Tehreek (PAT) secretariat in presence other like-minded parties including PMLQ of the former Prime Minister of Pakistan Ch Shujaat Hussain, Former Deputy Prime Minister of Pakistan Ch Pervaiz Elahi, Sunni Itihad Council (SIC), Majlis-e-Wahdat ul Muslimin (MWM) and other parties today.
The PAT chief invited the nation on August 10, 2014 Sunday to participate in the Youm-e-Shuada (Day of Martyrs) in Model Town Lahore to hold prayer session for the 14 PAT workers killed during the worst brutality in Pakistan's history committed by Punjab Government.
He warned the Government that if any crackdown tactics were employed to stop the people from coming to the Day of Martyrs in Lahore he will change the venue to Raiwind, the residence/Palace of Sharif brothers near Lahore.
Dr Qadri stated clearly that Green Revolution was bound to come in Pakistan and this Government would fall before end of the month of August 2014.
Qadri said that if we wanted we could have held a sit-in after the 17 June killings of PAT workers until the end of this Government but we didn't and remained peaceful. This is because our Army was busy in its operation against the militants we wanted to keep their focus on the operation. PAT spent the past 6 weeks going to courts and Police stations for registering First Information Report (FIR), a written document prepared by police but on instructions of the Punjab Government they even did not register the FIR even now.
Dr Tahir-ul-Qadri said that 6 weeks have passed and the killers of 14 unarmed PAT workers are still enjoying Government positions including the Chief Minister of Punjab. He stated that he has knowledge of phone calls recordings of Shahbaz Sharif and Nawaz Sharif which proves his involvement in killing of 14 unarmed PAT workers. It will be shown at the right time.
He said "Blood of martyrs and the injured of Model Town tragedy will not go in vain."
Dr Qadri said that "they should be aware that Pakistan has no democracy or law and order. Lives of Pakistani people are worse than dogs and cats living in households of western world."
Talking about 'Green Revolution', What will happen post-Green Revolution?
Dr Qadri said that the present rulers will be immediately jailed and their fate will be decided within 15 days after appearing before the court of justice. Warning the Punjab Police he said that the brutal and aggressive force will not be tolerated and requested the Police, bureaucrats and civil servants to disobey illegal orders by the Government. He warned the Police that if any illegal orders are taken or force used against the people of Pakistan they will be held accountable.
He said he will then immediately implement his 10-point revolutionary agenda to benefit the poor and oppressed people of Pakistan.
He further added that hundreds of thousands of political appointees and staff who have been used as slaves of the Government within the Police and various government departments will be sacked immediately and replaced by the people who are deserved, educated and have expertise.
On the occasion, Shahid Mursaleen, spokesman of Dr Tahir-ul-Qadri said "The present regime will end within 3 weeks and be jailed immediately after the revolution which is bound to come."
Mursaleen added that "we urge for non-violent civil disobedience and wide scale resignations and urge the police officers and all civil servants to openly disobey orders of the corrupt rulers whose unjust rule will end within weeks."
Thousands of party members and workers attended the meeting.
Source: www.nation.com.pk
Source : http://www.nation.com.pk/national/04-Aug-2014/august-10-to-be-marked-as-martyrs-day-start-of-revolution-qadri