Daily Times: Unlawful ECP mother of all ills, says Qadri
PAT chief says due to flaws in election process outcome is corrupt government, weak politicians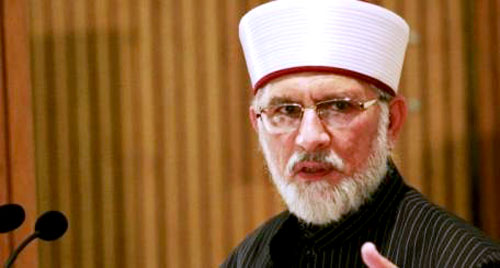 NEW YORK - Pakistan Awami Tehreek (PAT) Chairman Dr Tahirul Qadri has said that the mother of all the ills is the unlawful Election Commission of Pakistan (ECP).
He said that the 'London Plan' formulated between Pakistan Muslim League-N and the Pakistan People's Party was to enforce the election reforms of their own choice, now stands exposed before the people of Pakistan. Talking to different groups of overseas Pakistanis who called on him in New York on Tuesday, Dr Qadri said that the enforcement of Article 213 of the constitution, formation of election commission, hearing of election petitions and under Article 218 the holding of free and fair elections is inevitable for the future of true democracy.
He said that the Supreme Court decision on June 8, 2012, still awaits its implementation. He said that the 2013 elections were not constitutional but were held on the doctrine of necessity. He said that we had pinpointed all these flaws during our 2013 long march. He said that the smooth running of independent governments and strong democracies in India and European countries is only possible because of a powerful and independent election commission.
He said that an independent election commission holds the status of the heart in a democracy, if the heart fails to work properly than several illnesses overcome the body. He said that likewise if there are flaws in the election process than the outcome is a corrupt government and weak politicians. Qadri said that the dilemma of all this is that even today the ECP does not have a regular head and is working unconstitutionally and at present five people head the ECP who work according to their own likening and sweet will. No one can think of such an act anywhere else in the world, he added.
He said we have demanded this on several occasions that all the provincial heads of the Election Commission must resign and a new body should be formed with the consensus of all the political forces of Pakistan. He said that PAT had reached to the conclusion after the 1989 elections that the whole system is corrupt and the ECP was not an independent authority and rather it worked according to the wishes of other forces in Pakistan.
He said that we had given this vision in 1992. He said that this kind of election commission shall always be a stumbling stone in the path of true democracy and the traditional mindset of Pakistani politicians do not want a free and independent election authority.
Source: www.dailytimes.com.pk
Source : http://www.dailytimes.com.pk/national/12-Nov-2014/unlawful-ecp-mother-of-all-ills-says-qadri