NAMAZ e JANAZAH was prayed by Shaykh ul Islam Dr Tahir ul Qadri today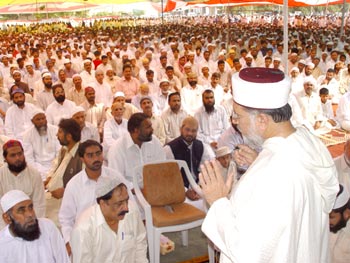 14th October 2005
Shaykh ul Islam Dr Tahir ul Qadri prayed the Namaz e Janazah along with thousands of people for the ones who passed away during the devastating earthquake last Saturday. Just after the Friday prayers Namaz e Janazah was read and special Dua was also done by Shaykh ul Islam Dr Tahir ul Qadri.
While speaking to the TV Channels and Reporters Shaykh ul Islam Dr Tahir ul Qadri appreciated and praised the devotion of the Pakistani people in Pakistan and out of Pakistan at this time of grief and need.
While informing the media with the progress of MWF regarding the earthquake relief Shaykh ul Islam Dr Tahir ul Qadri said that in the past 6 days MWF have sent more than 153 trucks to different areas of the earthquake hit areas from its camps in more than 65 cities of Pakistan. The main base camp of MWF has been set up in Rawalpindi which is mainly controlling the distribution along with the collaboration of the Lahore base camp. Sub camps were also set up in Mansehra, Muzafarabad, Abotabad, Bagh, Rawalakot and Rawalakot.
MWF have sent Aid for more than 25 million rupees. Medicines of 5.5 million rupees, 150 tons of eatable items which include beans, flour, rice, dates, biscuits, etc have been sent. More than 9500 coffins, 700 tents, 27000 bales of clothes, 17000 blankets and 12 teams of doctors with ambulances have been already sent in the past 5 days only.
More than 2000 workers of Minhaj ul Quran are directly and almost 7000 are indirectly involved for the relief aid efforts for the victims of the earthquake.
Pictures of the EARTHQUAKE RELIEF AID can be seen on the webpage of welfare www.welfare.org.pk and on the main page of Minhaj www.minhaj.org