MWF Relief Efforts Enters 2nd Phase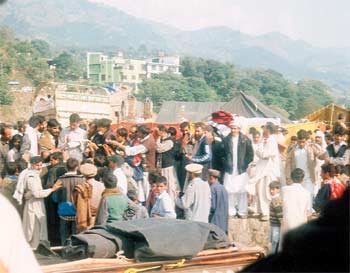 17th October 2005
Minhaj Welfare Foundation has entered its 2nd phase. In the 1st phase of emergency relief Aid MWF have played a significant role in the areas where relief efforts had not reached before. MWF have sent more than 240 trucks to almost 45 different locations. More than 7 camps of MWF were established in the devastated areas for further distribution to the far flung areas.
After 8 days Emergency Relief Aid of first phase, MWF is now moving towards its 2nd phase of establishing Minhaj Tent Villages. Arrangements are being finalized with the local authorities.
The main aim at this 2nd phase is to provide shelter to the homeless. Along with the shelter basic needs will also be fulfilled for the residents in these Minhaj Tent Villages. Gas Cylinders, water tanks and blankets will be provided to every tent in these villages.
Due to huge demand of tents the prices of tents have risen by more than 300% in Pakistan. And the main problem is of availability of these tents. MWF had already distributed more than 1500 tents. From Today all the tents available are sent for Minhaj Tent Village only.
Pictures of the EARTHQUAKE RELIEF AID can be seen on the webpage of welfare www.welfare.org.pk and on the main page of Minhaj www.minhaj.org