250 Tents and more distribution to the injured & their families
21th October 2005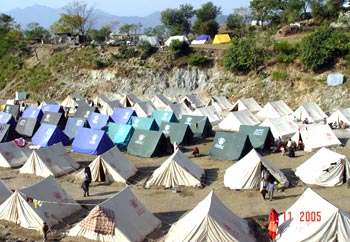 Minhaj Welfare Foundation has distributed more than 250 camps today from its base camp in Rawalpindi. Along with the tents pack of food items were also given to the families which took the tents. The food packs have Flour, sugar, milk, biscuits, beans, tea and other items.
Teams of Minhaj Welfare Foundation also distributed blankets, clothes and food to the hundreds of injured who have arrived in the Hospitals of Rawalpindi and Lahore. 4 teams of MWF visited the hospital all day and provided the required food and other items to the injured in more than 7 hospitals. More than 200 injured along with their families were served by the MWF teams today in the hospitals.
This distribution will continue by the MWF teams for the next few days in both Lahore and Rawalpindi.
MWF Lahore today received a delegation from Germany. The delegation of "AVRUPA TURK ISLAM BIRLIGI" is presenting the Turkish community in Germany. The delegation will distribute 150 tents and 150 packs of food to the victims of the earthquake in collaboration with Minhaj Welfare Foundation. MWF Germany has also managed the distribution of aid package to the victims in collaboration with other charity organizations in Germany.
The MWF team of Doctors from Greece also returned to Greece today after completing their tour to the devastated areas of the earthquake. In collaboration with the MWF teams at the base camp the Greek doctors distributed medicines in more than 7 hospital in Rawalpindi, Mansehra and Muzafarabad. One of the Doctor have also done several surgical operations of the injured in the PIMS Hospital in Rawalpindi.