Welcome reception for Naib Nazim A`ala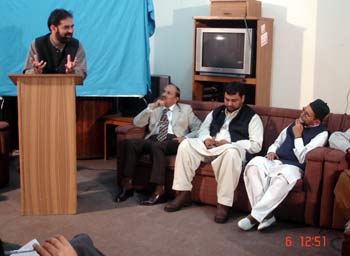 A welcome Reception was held at the central secretariat for Sheikh Zahid Fayyaz. He has been appointed as Naib Nazim A'ala and Nazim Minhaj Welfare Foundation (MWF). Shaykh-ul-Islam Dr Muhammad Tahir-ul-Qadri was the main guest at the reception.
Many speakers spoke of the commitment of Sheikh Zahid Fayyaz to the mission and how they wished him all the best in carrying out his duties at the central secretariat.
Speakers included Nazim A'ala Dr Raheeq Ahmad Abbasi, Mr G.M. Malik Principal Secretary to Shaykh-ul-Islam, Mr Ahmad Nawaz Anjum Ameer-e-Tehreek Punjab and Makhdoom Tanveer Qureshi. Other senior MQI leaders present included Ameer-e-Tehreek Allama Miskeen Faiz-ur-Rahman Durani, Senior Naib Nazim A'ala Col ' Muhammad Ahmed, Naib Nazim A'la Sqd. Ldr ' Abdul Aziz, Allama Ali Ghazanfar Qararwi, Brig ' Muhmmad Iqbal Pro-VC The Minhaj University.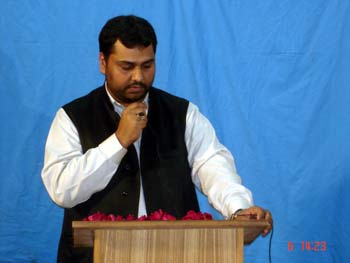 Sheikh Zahid Fayyaz thanked all of the participants for the warm welcome. He said that it was an honour for him to come from France and settle in Pakistan in order to work under the leadership of Shaykh-ul-Islam.
Concluding the program, Shaykh-ul-Islam said that the fact that he had already awarded Sheikh Zahid Fayyaz with the award of the 'MQI Best worker of the world' showed how he ranked him. He added that the fact that Sheikh Zahid Fayyaz has left his life in France in order to come and work at the central secretariat is not a minor matter at all.