Irfan-ul-Quran.com Launched by MIB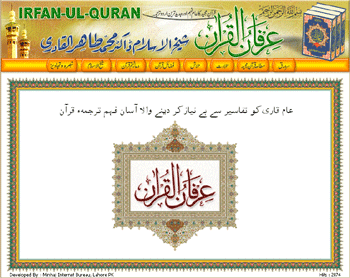 By the grace of Almighty Allah, Minhaj Internet Bureau is launching the most modern and contemporary online translation of the Holy Qur'an, Irfan-ul-Quran on the 55th birthday, 19th Feb. 2005, of Shaykh-ul-Islam Dr Muhammad Tahir-ul-Qadri. Irfan-ul-Quran has the honour of being the first online Unicode Urdu translation of the Holy Quran. Here readers can read the Holy Quran and Irfan-ul-Quran in 22 different methods. This web provides the facility of extensive search in the Quranic text and translation in Arabic, Urdu and Roman Script.
Shaykh-ul-Islam's Irfan-ul-Quran is easy-to-understand and self-explanatory. It will remove the doubts and objections against Quran scientifically and logically fulfilling the dire need of the day. Urdu netizens will really quench their thirst and have a great chance to understand the true teachings of the Quran.
We hope Irfan-ul-Quran.com will be a great milestone in the field of online translations of the Holy Quran. Comments and suggestions along with prayers in this regard will be welcomed.