PAT informs government about arrival of Dr Tahir-ul-Qadri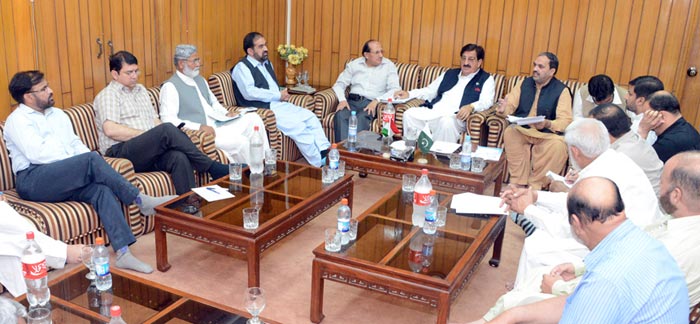 A special meeting was held today at the central secretariat to oversee arrangements in connection with reception to be accorded to Dr Tahir-ul-Qadri on his return to the country. PAT President Dr Raheeq Abbasi presided over the meeting.
Addressing the meeting, Dr Abbasi said that as a responsible political party, we wrote a letter to the DCO Lahore to inform him about arrival of Dr Tahir-ul-Qadri, adding that we did not ask him for security. He said that greater threats are posed to Dr Qadri from 'the oppressors' sitting in the Punjab government than from the Taliban. He said that Rana Sanaullah and the DCO Lahore are involved in the killing of our innocent workers and we do not expect any good from any of them.
Dr Raheeq Abbasi said that Dr Tahir-ul-Qadri will reach Lahore from Dubai at 7:30 a.m. on the morning of June 29. He said that the workers will accord him excellent reception at the airport as per tradition. He said that Dr Tahir-ul-Qadri went abroad for medical treatment because he suffers from a disease called 'Micro Vascular Angina' according to his doctors. He is feeling better due to continuous treatment of six months but he remains under medical treatment. He said that the workers are very excited at the arrival of Dr Tahir-ul-Qadri and they are restless to accord him reception.
The PAT President said that the government should rest assured that our workers neither took law in their hands in the past nor will do so now. He, however, asked the government to act within the ambit of law and rules. He said that we have not asked the government for security of Dr Qadri, adding that however the route Dr Tahir-ul-Qadri will use to reach his residence from the airport has been communicated to the DCO Lahore who should focus on securing that route.
Addressing the meeting, PAT Khurram Nawaz Gandapur said that the rulers have become nervous on the arrival of Dr Qadri because they know that they have blood of 14 innocent people at the hands. He said that tone and tenor of Rana Sanaullah is threatening. He said that every citizen can use the right of peaceful protest as and when he wishes and there is no need to seek any permission in this regard. He said that the PAT is the peaceful political party whose workers never took law in their hands. He asked the minister for law who is known for violating law himself to mend his own ways and stop using terrorist police to intimidate and browbeat his political opponents. He said that whether the rulers are nervous or beleaguered, they should not forget they will be held accountable for their role in Model Town tragedy.
An important meeting of PAT Central Working Council will be held in the central secretariat on Sunday in which arrangements in connection with arrival of Dr Tahir-ul-Qadri will be reviewed and given a final touch.