Nation fed up with lengthy & tiresome press conferences of Interior Minister: PAT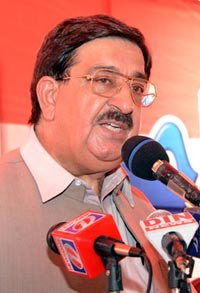 Deploring the never-ending press conferences of the Interior Minister, PAT Secretary General Khurram Nawaz Gandapur has said that a government which could not do anything against terrorism for last eight months will not be able to do much in future as well. He said that the nation has got fed up with the lengthy and tiresome press conferences of the Interior Minister. He said that the Minister remains annoyed with his government for twenty days in a month and then shows up to give false comforts to the masses. He throws dust in the eyes of people and then disappears from the scene.
The PAT Secretary General expressed these views while talking to party office holders and media men in the central secretariat yesterday. He said that it has been eight months since the National Action Plan against terrorism was approved but the rulers are still feeding people on false stories and myths. He said that journalists, citizens and important personalities are being targeted due to incompetence of the rulers.
Khurram Nawaz Gandapur asked the Interior Minister to tell the nation as to how many points of the National Action Plan have been implemented by his government? He said that there is a degree of confusion prevailing among the ruling circles about the war on terrorism. He said that only that part of the NAP has been implemented which pertains to action by the Pakistan armed forces. He further asked the Interior Minister to tell the nation as to why the registration of the religious seminaries could not be carried out so far and who are creating hurdles in the registration process? He said that when those having sympathies for the terrorists will have parties in the echelon of power, how can the religious seminaries spawning terrorism be stopped from working?
The PAT Secretary General said that Interior Minister said two days ago that Nation Counter-Terrorism Authority will get funds soon. He said that it is a matter of immense regret that an institution which was to play a lead role in the war against terrorism suffers from shortages of funds and the government high-ups are saying that funds will be provided to it soon. He said that serious work against terrorism has either been done by the armed forces or Dr Tahir-ul-Qadri. He said that the armed forces have broken the back of terrorists through Operation Zarb-e-Azb and Dr Tahir-ul-Qadri dealt a severe blow to terrorists through Zarb-e-Ilm by launching Islamic Curriculum on Peace and Counter-Terrorism.