Farmers being pushed against the wall: PAT Youth Wing President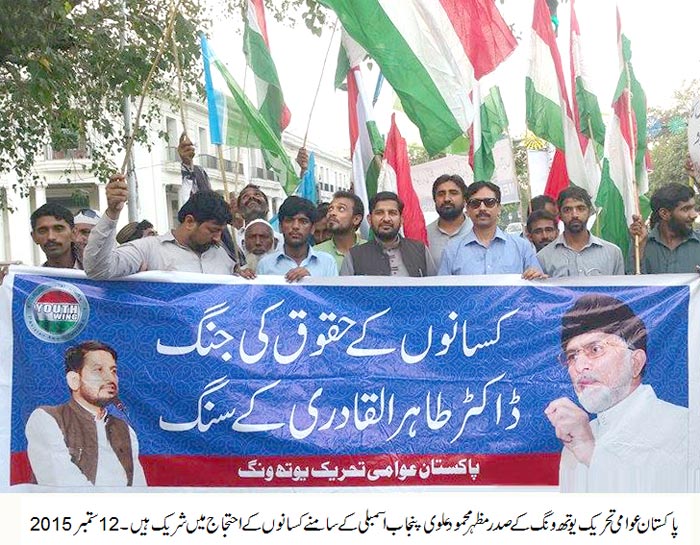 PAT Youth Wing President Mazhar Alvi has said that the present rulers are the biggest enemies of farmers. He said that oppressive, corruption system installs the feudal lords, big businessmen and industrialists in the corridors of power and these are the small farmers who get affected the most by the narrow-minded agricultural policies. He said that the whole of Dr Tahir-ul-Qadri's struggle is for the rights of the downtrodden sections of society including the farmers and labourers.
Mazhar Alvi expressed these views while addressing a sit-in of the Kisan Ittehad in front of the Punjab Assembly. He said that the PAT Youth Wing stands by the farmers in their struggle to get their rights. He said that when farmers will get inputs such as electricity, fuel at high prices, how will they be able to sell off their produce at the cheap rates? He said that the rulers want to push the farmers against the wall through their ineffective policies, a situation which can lead to wheat crisis in the country.
The PAT Youth Wing President said that the farmers who drink imported water and eat imported vegetables cannot understand the problems of those who produce made-in-Pakistan food. He said that the farmers who really work hard on their fields would have to be freed from the oppressive cultures. He said that Parliament gets strengthened only when it talks about the rights of the poor. He said that the workers, labourers and farmers are being crushed under the burden of price hike and narrow-minded policies.