Implementation on first 40 Articles of the Constitution key objective of our struggle: PAT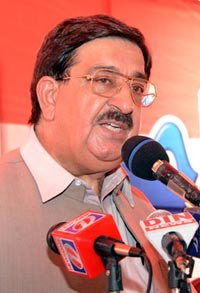 PAT Secretary General Khurram Nawaz Gandapur has asked the nation to reject rulers who spent Rs. 47 billion of the people's hard earned money on the Nandipur power project but failed to produce even a single unit of electricity. He said that it is the time to save the country, not the fake democracy. He said the incompetent provincial governments are wasting the gains of the sacrifices rendered during the Operation Zarb-e-Azb. He said that as long as these rulers remain in power, crises will continue to crop up one after the other with the result that the people will keep on suffering.
The PAT Secretary General said that incompetent and dishonest leadership cannot confront the grave set of challenges such as terrorism, poverty, economy and internal and external dangers facing the country, adding that it can, however, further mislead the nation by feeding it on false promises and empty rhetoric. The rulers do not have any economic vision except taking of foreign loans at inflated mark-up rates.
Khurram Nawaz Gandapur stated this while addressing a quarterly meeting of the central council of PAT Punjab. Basharat Jaspal, Fayyaz Warraich, Major (r) Muhammad Saeed, Azam Sandhu, Raja Zahid, Raja Nadeem, Arif Chaudhry and other office holders were also present on the occasion.
Khurram Nawaz Gandapur said that the PAT's struggle against coercive and exploitative system continues unabated. He said that we have adopted the strategy of participating in the elections in addition to staging protests to highlight the issues of public importance. He said that elimination of corrupt system and justice for Model Town martyrs through peaceful and electoral struggle is part of our objectives from which we would not budge even a single inch. He said that if first 40 Articles of the Constitution are implemented, people will have their fundamental rights met at their doorstep. He said that the ruling elite acts upon those parts of the Constitution, which protects their interests. He said that our struggle is all about getting fundamental human rights implemented.