PAT for busting of gangs of human smugglers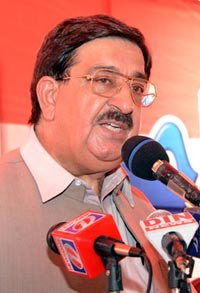 PAT Secretary General Khurram Nawaz Gandapur and MQI Foreign Affairs Director GM Malik contacted the PAT and MQI Italy chapter to collect information regarding the accident the boat carrying Pakistanis met in which a number of people died. They instructed the office bearers and workers of PAT and MQI to take part in the relief activities.
Haji Javed Arshad Chaudhry, a resident of Italy and vice president of MQI local chapter, said that the accident took place due to overloading. He said that the news has been doing the round for two days in Italy but the Pakistan Embassy was not moved. He said that not only are human lives being lost due to human smuggling but the country is also getting a bad name. He said that the Pakistani government is unable to lay its hands on the smugglers despite all the tall claims. He said that the patrons of these smugglers are part of the government. He said that the local chapter of MQI is trying to get information regarding dead bodies of the Pakistanis.
Speaking on the occasion, Khurram Nawaz Gandapur said that no one is as insensitive as the present government is as for as the securing life and honour of the masses is concerned. He said that the Interior Minister should refrain from addressing useless and lengthy press conferences and instead spend his time on identifying the patrons of smugglers and taking action against them. He said that the people are driven out of their motherland due to hunger and poverty and they wish to reach greener pastures without caring a hoot about the dangers involved. He said that it is then that human smugglers come into play and fleece these people. He said that the PAT demands that arrangements should be made to bring the dead bodies of the Pakistanis back to their homeland and the gangs busy in human smuggling should be busted.