Quaid's dream of rule of law not fulfilled yet: Dr Tahir-ul-Qadri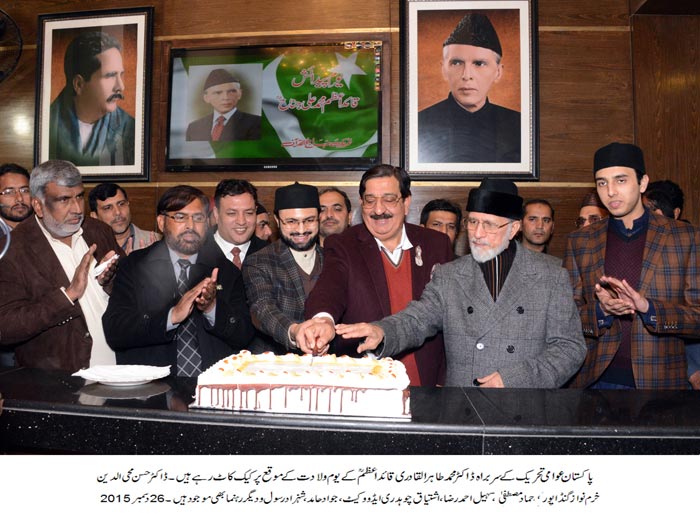 Addressing the cake cutting ceremony in connection with the 139th birth anniversary of the Quaid-e-Azam, Dr Tahir-ul-Qadri said that the founder of Pakistan wanted rule of law and the Constitution in the newly established country. He said that it is a matter of immense regret and national shame that this dream of the Quaid has not materialized to date. He said that the Quaid as the Governor General refused to have the railway gate opened for him before time. He, however, added in the same breath that those getting power in his name have been tearing the law into shreds.
Dr Qadri said that the movement of the citizens is seriously hampered by blocking roads for the VIPs in the name of protocol. He said that the founder of Pakistan had ordered complete de-politicization of the government employees but the successive governments have made it a point to use every institution of the state including police, and Election Commission to advance their political interests.
Dr Hassan Mohi-ud-Din Qadri, Khurram Nawaz Gandapur, Hammad Mustafa, Sohail Raza, Ishtiaq Ch Advocate, Shahzad Rasool, Jawad Hamid, Haji Ishaq and others were present in the ceremony.
Meanwhile, the PAT Chairman presided over the meeting of the PAT Central Advisory Council at the central secretariat and approved the establishment of think-tanks on economy, health, foreign affairs, media and education etc. Speaking on the occasion, he said that policy making reflective of ground realities is not possible without the input of think-tanks. He said that he wanted to see PAT structured on scientific lines so that the party could play positive role in guiding the people in all walks of life.
The Central Advisory Council meeting was attended by Dr Hassan Mohi-ud-Din Qadri, Dr Hussain Mohi-ud-Din Qadri, Khurram Nawaz Gandapur, Major (r ) Muhammad Saeed and others.