National Action Plan turned into Selection Plan: Dr Tahir-ul-Qadri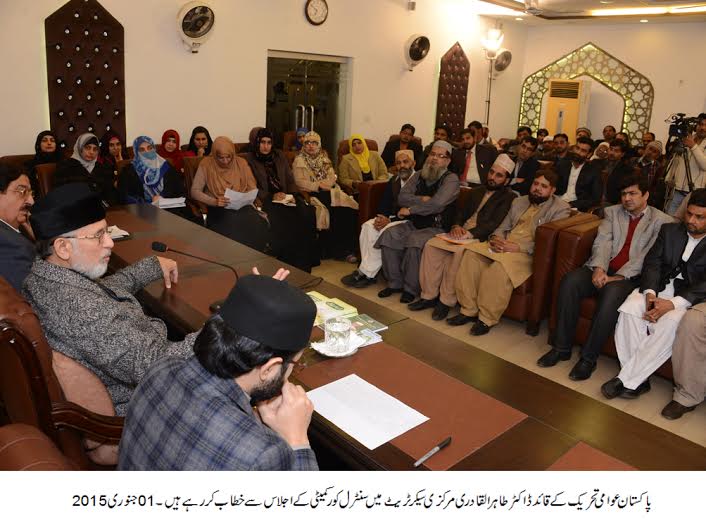 PAT Central Executive Committee, in its meeting held on January 01, adopted a resolution requesting the Army Chief that the masterminds and facilitators of Model Town tragedy should be arrested. It asked the apex committee to send the Model Town case to the military court. It said that no institution is delivering justice owing to enormous powers, resources and influence of the rulers. Therefore, the army should play its role in getting the justice provided to 14 martyrs and 85 injured on the pattern of martyred students of APS.
Dr Hassan Mohi-ud-Din Qadri, Khurram Nawaz Gandapur, Brig. ( r) Muhammad Mushtaq, and Faiz-ur-Rehman Durrani addressed the meeting, whereas Ahmad Nawaz Anjum, Farah Naz, Allama Rana Muhammad Idrees, Allama Farhat Hussain Shah, Murtaza Alvi, Shahzad Naqvi, Tanvir Khan, Muhammad Rafique Najam, Irfan Yousaf, Noorullah Siddiqui, Sajid Bhatti and Jawad Hamid were present in the meeting.
Speaking to the participants of the meeting, PAT Chairman Dr Muhammad Tahir-ul-Qadri said that the rulers have turned National Action Plan into Selection Plan. He said that there is a government within a government and a state within a state. He said that news regarding recruitment for Daesh reflects failure of the government. He said that elimination of terrorism is not possible as long as present rulers are there. He said that dust was thrown into the eyes of the people by taking action against the loud speakers in the name of the NAP. He said that the credit for semblance of peace visible across the land at the moment goes to the Operation Zarb-e-Azb.
Dr Qadri said that the government is being run through blue eyes individuals and the companies. He said that important decisions of the national import are being taken in the drawing rooms of rulers, not at the floor of the Parliament. He said that the institutions are weak and the poor are getting poorer whereas the ruling elite is getting richer by the day. He said that the present rulers have failed to deliver on terrorism, unemployment, load-shedding and price hike. He made it clear that we would go to any extent to seek justice for Model Town martyrs.
The meeting adopted another resolution which demanded that all points of the NAP should be implemented and its operation should be extended to other provinces uniformly. It said that Islamic Curriculum on Peace and Counter Terrorism designed by Dr Tahir-ul-Qadri should be taught at the educational institutions. It was further demanded that funds and powers should be given to the local government institutions. It was further stated that the LG institutions have been kept deprived of powers through establishment of the committees. The powerless institutions would fail to serve the masses, it was observed.