Panama leaks probe not possible under Commissions of Inquiry Act 1956: Dr Tahir-ul-Qadri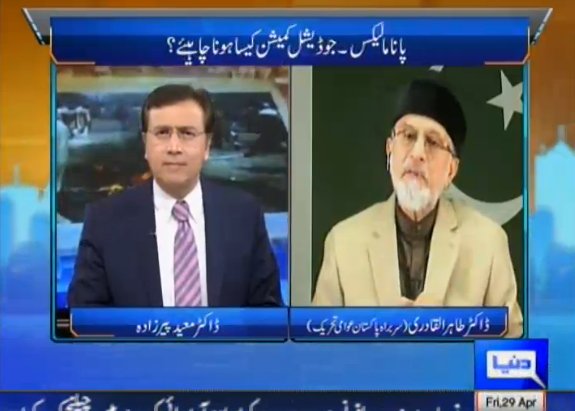 PAT Chairman Dr Muhammad Tahir-ul-Qadri has expressed his belief that accountability would certainly be conducted, punishment meted out and the rulers would not be able to escape justice this time round. He said that after Panama, Chotu leaks would also come to the fore that has had the patronage of the rulers.
In a TV interview yesterday, Dr Tahir-ul-Qadri said that the inquiry of the Panama leaks cannot be carried out under the Commissions of Inquiry Act and for the inquiry to be possible, the government and opposition should jointly formulate ToRs followed by issuance of Ordinance for establishment of sovereign Judicial Commission which should have the services of the international forensic agency. He said that perhaps the Chief Justice of Pakistan would not like to head a toothless commission which has powers of a civil court.
Presenting various suggestions for inquiry into the Panama leaks, Dr Qadri said that this corruption case of rulers can be investigated under Anti-Corruption Act 1947. This Act was enforced by the Quaid-e-Azam. Mentioning clause 5-B & 5-C-5, he said that everybody can be held accountable under these provisions whose assets are registered in his or in his family's name. If there is no compatibility between the assets, income tax returns and life style, it is corruption which is liable to be held accountable. He said that revelations made by the Panama leaks are related to 8 different crimes that include tax evasion, concealment of assets, money laundering, corruption, commissions, kickbacks, illegal transfer of wealth etc. He said that a powerful commission is inevitable for investigation of these crimes.
Dr Tahir-ul-Qadri said that the government wants such a commission whose power should be limited to compilation of the report and handing it over to the government. A similar example is Model Town Commission, which formulated its report and handed it over to the government which has yet to see the light of day.
Throwing light on the Chotu gang, the PAT Chairman said that five different types of gangs are active in South Punjab. In addition to Chotu gang, Faisalabad gang, Taliban gang, Lashker-e-Jhangvi gang, Fararri gang, and a gang consisting of foreigners. This gang is engaged in anti-state activities besides acts of arson, theft, terrorism and kidnappings. These gangs have had support of the powerful people who look after each other's interest. He said that Punjab government thought to eliminate the Chotu gang in police encounters but the army arrested important people of the gang through an operation. He said that important leaks will be made and high-powered people will be arrested as well.