PAT lawyers protest ridiculing attitude of government lawyers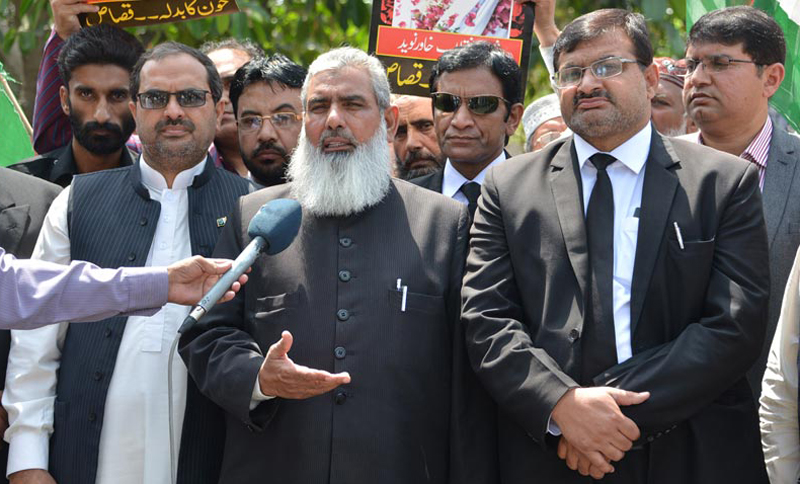 The PAT lawyers strongly protested the attitude of the government lawyers for poking fun and ridiculing them during the hearing of the Model Town case in antiterrorism court. Both sides exchanged harsh words in the courtroom in the presence of the judge of antiterrorism court Ch. Muhammad Azam.
PAT lawyers Naeem-ud-Din Chaudhry Advocate, Shakeel Mumka Advocate and Mustaghees Jawad Hamid Advocate lodged a strong protest on the occasion and said that around 100 of their workers were shot at, and 14 of them were martyred including innocent women, adding that instead of being ashamed, the government lawyers are ridiculing and cracking jokes, which is a brazen act. They warned the government lawyers that if they did not desist from their immoral and highly objectionable attitude, then they would have to petition the court to bar their entry into the courtroom. He said that unless they are summoned in the private complaint case, they do not have the legal right to intervene in the proceedings.
Giving his arguments, Rai Bashir Advocate, the head of the PAT lawyers team, said that the rulers, who were afraid of Dr Tahir-ul-Qadri, resorted to mass-killing of workers in the name of removal of barriers and IGP Balochistan Mushtq Sukhera was transferred to Punjab overnight for this purpose. He said that some of the police officers working under Mushtaq Sukhera have stated on record that they did not find a more oppressive person than him. He said that the federal ministers hurled threats at Dr Qadri both in TV interviews and statements with a view to stopping him from coming to Pakistan. He said that Prime Minister, Chief Minister, Pervez Rashid, Khawaja Asif, Ch Nisar, Abid Sher Ali, and Rana Sanaullah called Khurram Nawaz Gandapur, Fayyaz Warraich and Syed Altaf Gilani and ordered them to stop Dr Tahir-ul-Qadri from returning to the country. He said that in case of their failure, they gave threats and walked their threatening talk on June 17, 2014.
Rai Bashir Advocate said that an emergency meeting took place between the PM and the CM Punjab on June 16 in Jaati Umrah Lahore. He said that the purpose of the meeting was to discuss the matters related to arrival of Dr Qadri, adding that a section of media reported the contents of the meeting. The next hearing of the case will be held on January 9.
Meanwhile, Muhammad Mukhtar, an injured of the Model Town incident, who is among those 'nominated' in the case by the Police in the FIR against the PAT workers, reached the antiterrorism court on an ambulance.