Slogans of revolution can be stole but not thought & character: Dr Tahir-ul-Qadri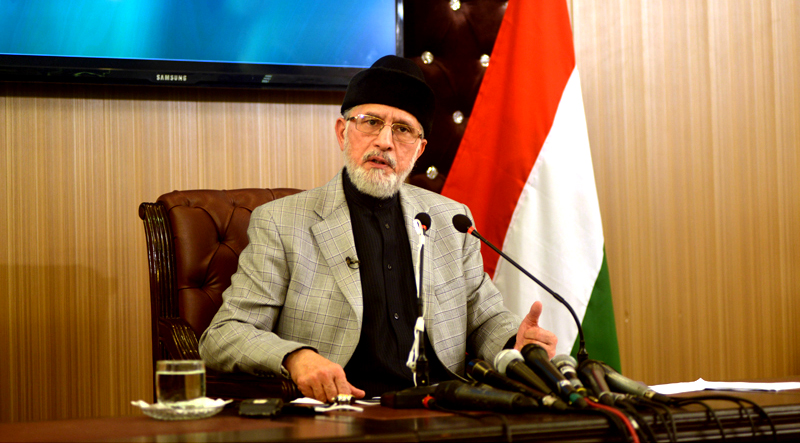 PAT Chairman Dr Muhammad Tahir-ul-Qadri has said that the ruling elite massacred innocent people in Model Town to suppress their voice for peaceful revolution. He asked how a dishonest and an untrustworthy person can be a revolutionary. He said that 14 dead bodies await justice. He said that slogans can be stolen but not thought. He said that a complete accountability of the looters is necessary.
Dr Tahir-ul-Qadri expressed these views while addressing the meeting of the PAT Central Core Committee yesterday. He said that after the SC verdict of disqualification, the mindset trying to wear the mantle of a revolutionary seems to be disturbed. He said that both the system and the Constitution were alright one minute ahead of the disqualification verdict was handed down.
The PAT Chairman said that the people will not be taken in by a glib talk anymore. He said that how a dishonest person can presume that his new drama will find takers. He said that the NAB has not become effective the way it should have after the SC verdict, adding that remainder of corruption is present in the institution. He said that fight against corruption has just started and it is for the people to stay united to take this fight to its logical conclusion.
Dr Qadri said that the politics of the elite has been based on violence, corruption and deceit. He said that state power was used to strengthen an individual's rule and democratic values were crushed in the process. He warned that they want to delete all clauses from the Constitution that demand honesty and trustworthiness from the legislators. He said that those who support them in this unholy conspiracy will also be exposed before the nation.