Dr Tahir-ul-Qadri asks for high level probe into attempt at changing oath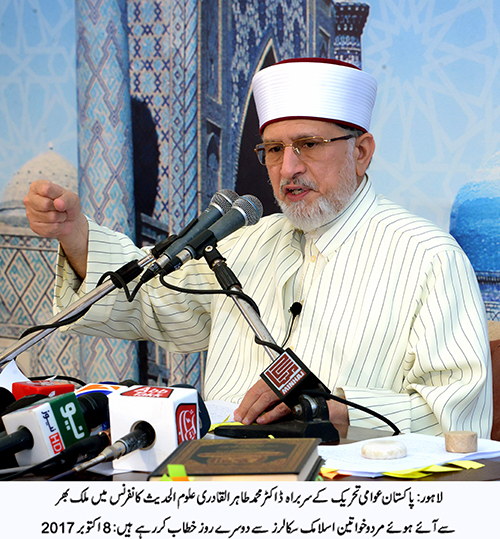 Talking to media during 'Uloom-ul-Hadith Conference', PAT Chairman Dr Muhammad Tahir-ul-Qadri has said that a neutral JIT at the level of the Supreme Court should investigate the grave crime of changing the text of the oath regarding belief in the finality of Prophethood and exemplary punishment should be meted out to those found responsible for this act. He asked how a thief can investigate matters related to himself.
Rejecting the committee set up by Nawaz Sharif to probe the matter, Dr Tahir-ul-Qadri said that whether the committee is established by Nawaz Sharif or the PM, it means the same. He said that the SC should look into the matter. He said that a certified liar has the gall to ask as to why he was expelled.
Talking about the aims and objectives of Uloom-ul-Hadith Conference, Dr Qadri said that thousands of Ulama, Mashaykh and women scholars attending the Conference hate terrorism, extremism and sectarianism and every participant of the Conference is an ambassador of peace, tolerance and unity within the different schools of thought. He said that the religious scholars and Mashaykh have condemned the deletion of such terms as 'honesty' and 'truthfulness' through a resolution passed in the Conference, asking how can a robber baron and a thief head a political party?
Dr Qadri said that a segment of political opinion is ridiculing the state institutions of Pakistan with abandon. It is running campaign to bring the army and judiciary into disrepute through their propaganda. He expressed his surprise at the fact as to how such a ridicule is being tolerated.
Responding to questions about Model Town tragedy, Dr Tahir-ul-Qadri said that the government lawyers admitted in the court that the hearing of case regarding release of Justice Najfi Commission report will be conducted on daily basis but now dates after dates are being given. He asked why it is that the powerful oppressors are being heard, not the oppressed who are waiting for justice in the case.
He further stated that attempted change in the oath looks to be the result of an agreement and it is after a severe backlash that the government withdrew the amendment in the declaration form. He said that the day the rulers changed the Constitution for their vested interest will be the day they will be sent home.