Those having their assets abroad cannot be loyal to Pakistan: Dr Tahir-ul-Qadri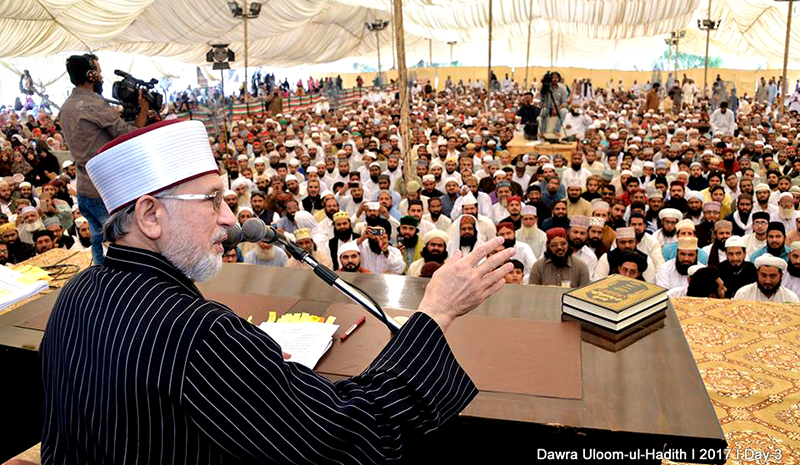 Addressing the hundreds of religious scholars, Mashaykh during the last session of three-day 'Uloom-ul-Hadith Conference', PAT Chairman Dr Muhammad Tahir-ul-Qadri has said that enemies are rendering the foundations of Pakistan hollow by spreading sectarianism and 'kharji' thought. He said that the youth are being misled by creating ambiguities and misunderstandings about Islam and Pakistan. He said that anti-Pakistan forces are eradicating distinction between honesty and corruption, Jihad and mischief, truth and falsehood and piety and evil, adding that some people holding important positions are playing the role of a facilitator.
Dr Qadri said those who have their assets, businesses and palaces located abroad cannot be loyal to Pakistan. He said that such elements do government in Pakistan but their 'ideological headquarters' are based abroad. He said that campaign against judiciary and the army on the registration of corruption cases and change in the text of the oath regarding finality of prophethood is part of the strategy in this regard.
Dr Tahir-ul-Qadri said that by running a campaign against the judiciary, a new culture of lawlessness is being founded. He said that in this day and age known for mischief and intellectual confusion, it is foremost responsibility of the Ulma and Mashaykh to spread the original thought of the Holy Quran and Sunna and unity within the Muslim community by rising above their narrow differences. He urged the religious scholars not only to stay aware of attacks launched by anti-Islam forces on the social media forums but also keep the people educated and informed about negative use and implications of the social media outlets. He said that they should properly verify and research the material being shared on social media websites before accepting it as truth. He said that we should try our best to expand our insight and horizon by reading as much as we can and also pray to Allah Almighty to enable us to tread the right path as determined by Him. He said that every evil and crisis emanates from selfishness, and narrow-mindedness.
Later on, talking to media, PAT Chairman Dr Muhammad Tahir-ul-Qadri said that protection of national wealth and strict accountability of dishonest elements according to the law is the moral, social, political and legal responsibility of every state functionary including the Chairman NAB. He said that personalities are not indispensable as they come and go but the countries and institutions stay there for every. He said that it is a rare opportunity to steer Pakistan out of quagmire of corruption which should not be lost. He said that when the supremacy of law and justice is ensured, our succeeding generations will not be called beggars. He said that it is time to safeguard the country and its independence. He said that it is not the poverty and lack of resources but destruction of justice system and ridiculing of the institution of judiciary that destroys nations.
Dr Tahir-ul-Qadri said that dishonest and patently corrupt lot is ridiculing the institutions of the state in the Pakistan of the 21st century and thus laying the foundation of a sinister culture of lawlessness. He asked for how long will the state institutions and the patriotic Pakistan keep mum over such sad state of affairs? He asked the religious scholars and Mashaykh to raise their voice against corruption, and violations of law from their pulpits.
The PAT Chairman also distributed certificates among the participants at the conclusion of the ceremony.