38th foundation day of MQI celebrated across the world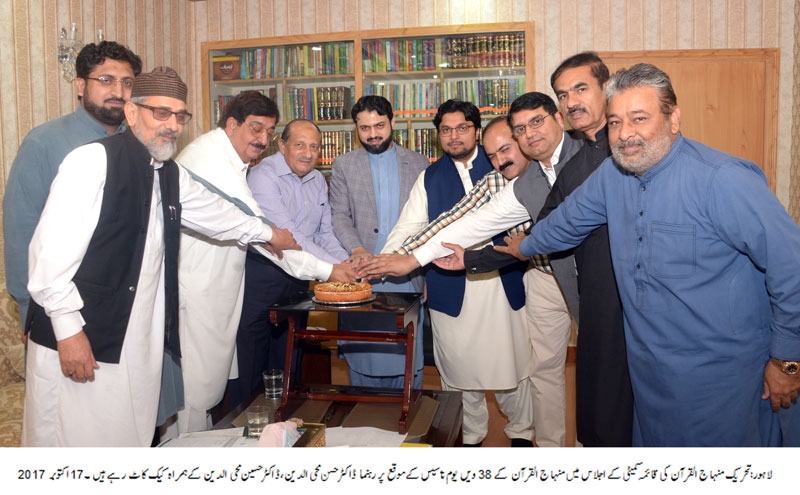 Dr Hassan Mohi-ud-Din Qadri, Chairman of MQI Supreme Council, has congratulated the members, associates, office-bearers and workers of MQI on the 38th foundation day of the organization. He said that MQI has rejected baseless and misleading propaganda of lining Islam with terrorism in the light of the teachings of the Holy Quran and Sunna and told the Muslim and non-Muslim societies that Islam does not approve of terrorism. Rather it guarantees survival and protection of humanity without any discrimination. It considers the killing of one person as the killing of entire humanity, he said.
A cake marking the 38th foundation day of MQI was cut in the meeting of the Standing Committee and Dua was made for peace and stability of the country and upholding of Islam.
Speaking on the occasion, Dr Hussain Mohi-ud-Din Qadri, President of Federal Council, said that MQI is a great revolutionary and revivalist movement aimed at reform and promotion of knowledge. He said that the organization, dedicated to preaching of the faith that Dr Tahir-ul-Qadri founded on his own 38 years ago, has now spread to 100 countries, adding that MQI is in the forefront of the struggle to reject and foil the attacks of 'khawrij' on Islam. Its services in guiding and educating the youth along the path of knowledge, practice and peace are particularly noteworthy.
Dr Hussain Mohi-ud-Din Qadri said that Dr Tahir-ul-Qadri's message for the youth is that they should throw purposelessness, and luxury out of their lives and direct their efforts to win the pleasure of Allah Almighty.
Expressing his views, MQI Secretary General Khurram Nawaz Gandapur said that Dr Tahir-ul-Qadri has given a great gift of 1000 books on hundreds of topics to the Muslims during the journey spread over 38 years. He set up great institutions dedicated to public service such as Minhaj Welfare Foundation, Orphan Care Home, and Bait-uz-Zahra, which are benefiting hundreds of the deserving people in the country.
Cakes were cut in different departments of MQI on the occasion of 38th foundation day. Brig. (r ) Muhammad Iqbal, GM Malik, Rafique Najam, Sajid Bhatti, Amjad Ali Shah, Jawad Hamid, Shahzad Rasool Qadri, Sohail Raza, Mazhar Alvi, Irfan Yousaf, Allama Imdadullah Qadri, and Syed Farhat Hussain Shah also congratulated the workers of MQI on the 38th foundation day of the organization.