Minhaj University students show solidarity with Rohingya Muslims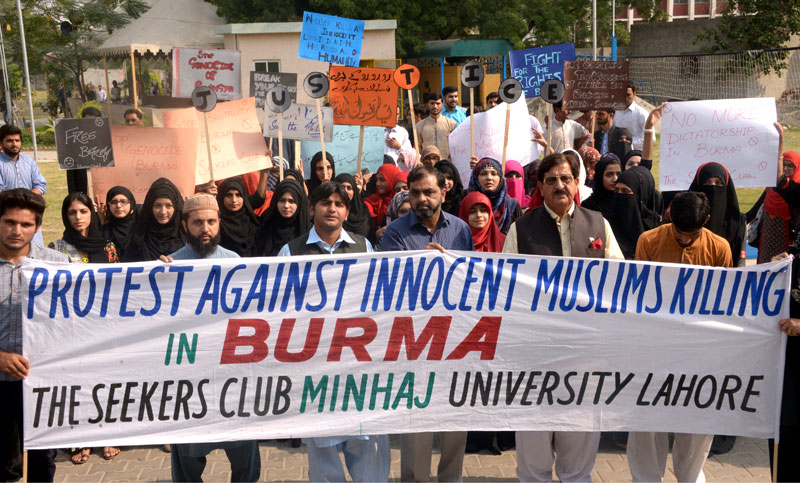 MQI Secretary General Khurram Nawaz Gandapur has said that the Burmese government's treatment of the Rohingya Muslims is both condemnable as well as accountable. He asked the UN, human rights organizations and the Islamic world to raise voice against the genocide of the minority Muslim community. He said that the UN and the Islamic world is duty bound to speak up against the worst human rights violations and take effective steps to stop extermination of the Rohingyas in Burma.
Khurram Nawaz Gandapur made these remarks while addressing a protest demonstration organized by the students of Minhaj University to express solidarity with the persecuted community. The hundreds of male and female students were holding banners and placards along with their teachers and professors. They were raising slogans to condemn the sheer brutality perpetrated on the hapless Muslims by the Burmese government.
The MQI Secretary General termed the genocide of the Muslims as the humiliation of humanity and a slap in the face of the civilized world. He said that human rights organizations and UN Human Rights Council are aware of the brutalities and massacre on the Muslims of Burma and are also spreading awareness about it. He said that silence of the powerful countries on instances of the worst human rights violations is akin to supporting the oppressors in their nefarious designs.
Khurram Nawaz Gandapur said that oppression and racially biased attitude of the Burmese government is against the accept norms of civilized conduct and the charter of the UN. The protestors demanded establishment of a fund to financially helping the Burmese Muslims and impressed upon the world conscience to wake up before it is too late. They said that the way people including women and children are being massacred demands that time to think is long gone and it is time strict action was taken to stop extermination of a community.