No one more humiliated that Nawaz Sharif: Dr Tahir-ul-Qadri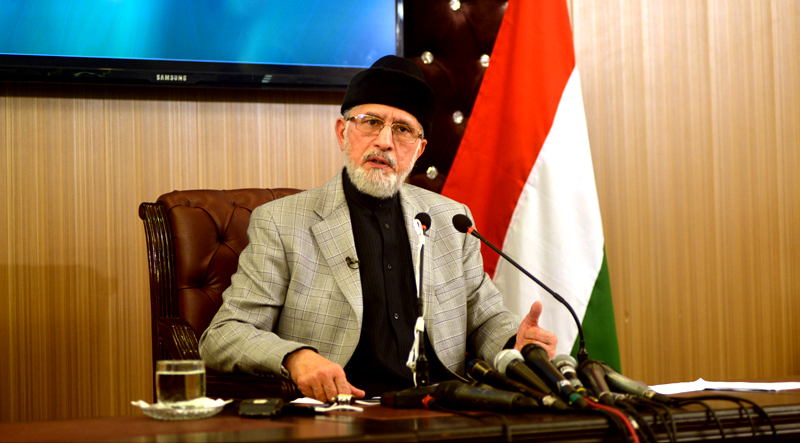 PAT Chairman Dr Muhammad Tahir-ul-Qadri has said that if the government lawyers sit in the chambers of the honorable justices at the time of in-camera review of Justice Najfi Commission report, the family members of the martyrs should also be allowed to join them in the chambers. He said that he is convinced that those involved in perpetrating Model Town tragedy will meet their end. He said that he has seen many prime ministers and powerful rulers thrown out of office but the kind of humiliation that has come Nawaz Sharif's way is simply unprecedented. He said that whether Nawaz Sharif is in the Prophet's Mosque or courtyard of the Holy Ka'ba, the people chant the slogans of 'thief'. He said that it is height of stubbornness that a patently proven dishonest and corrupt person asks others as to why he was expelled from office.
Dr Tahir-ul-Qadri said that it is Allah's accountability of the Sharif family, adding that a lot more is in the offing for them. He said that a room in a jail is ready to have the ousted prime minister as an inmate. He said that he is coming to Pakistan this week. He said that for all the oppression perpetrated on the humanity, they will now have to answer for each of their actions. He said that if the ruling family cannot feel humiliation at whatever has happened to them so far, it is another sign of accountability of nature. He said that our feelings are closely associated with our conscience and when the standard to measure everything in life becomes money, then conscience of such a person dies. He said that whosoever sells his conscience and trades national honour, he cannot be expected to have any ounce of self-respect. Such a person cannot feel public humility.
The PAT Chairman said that the people say that the ruling family has had a long sway in power and are deeply entrenched in the system. He said that Yazid perpetrated oppression in 60th Hijra but Allah Almighty avenged it in 132nd Hijra. He said that the longer the leash of power the more the punishment.
Meanwhile, Dr Tahir-ul-Qadri expressed his deep sense of grief and sorrow on the death of the mother of PTI senior leader Syed Samsaam Bukhari and prayed to Allah Almighty to rest the departed soul in eternal peace.