Arrest the killers lest they flee, demands Dr Tahir-ul-Qadri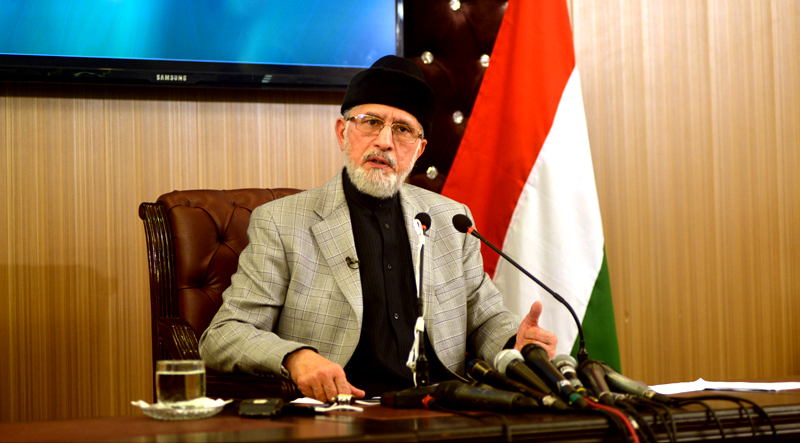 Chairman PAT Dr. Muhammad Tahir-ul-Qadri has said that Nawaz Sharif's rebellion against the Supreme Court amounts to declaration of war against the state. Why are the national institutions silent over the rantings of the national culprits? These economic terrorists must be put behind bars and each penny they looted must be recovered otherwise they would flee the country. The elite attacked judiciary whenever they got a chance. Had those who filed false affidavit in the court been arrested, they would never have hatched conspiracies against the institutions.
Dr. Qadri added that the Model Town massacre was conceived and planned at PM House, whereas its implementation took place at CM House. He said this while talking to the lawyers belonging to PAT in his telephonic address the other day. He said that the Supreme Court has exposed the elite. Now they are attacking judiciary in order to stop the court proceedings on Justice Baqir Najfi report and on their corruption references. He asserted that they have no answer to the killing of 14 innocent people and no record of the corruption committed during the last four decades.
Dr. Qadri said that the corruption which has been unearthed is just a tip of the iceberg. What has been exposed is just a drop, the ocean still remains. They have scores of their accounts handlers across the world who look after and manage their accounts. The Supreme Court deserves kudos for upholding the dignity of law in spite of threats and intimidation. He said that we pay tributes to the honourable judges for the courageous role they played for the supremacy of law. He said that the elite is scared of possible outcome of the Model Town case. They know full well that economic terrorism would land them in jail and Model Town case would trigger their death sentence.
The PAT Chairman said that justice was oppressed on the 17th June 2014 when the regime bullet riddled 100 people, killing 14 of them. He said that justice was oppressed when Sharif brothers deprived the families of the Model Town martyrs of their right of registration of FIR in spite of the order of the Court. He said that the justice would be victorious the day the killers were brought to justice.