Nation standing behind its armed forces in war on terror: Dr Tahir-ul-Qadri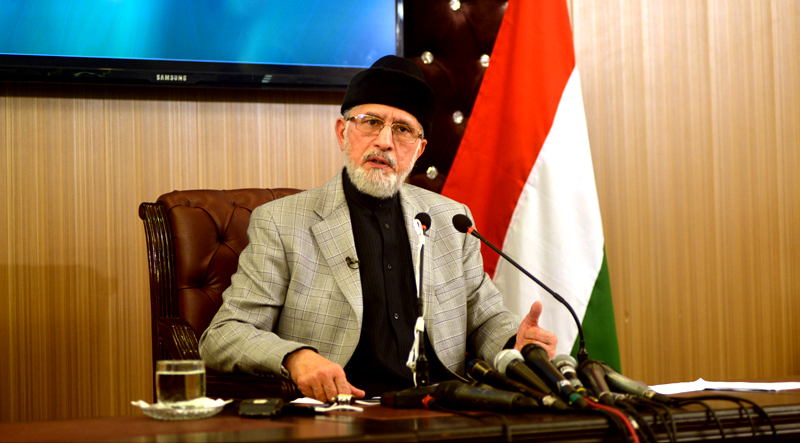 PAT Chairman Dr Muhammad Tahir-ul-Qadri has said that the nation is proud of the supreme sacrifice of life rendered by Major Ishaq of Pakistan Army in the line of duty. He said that the sacrifice for protection of the motherland will not go in vain. He said that every officer, jawan and shaheed of Pakistan military has chronicled new chapters of bravery, patriotism, and courage while securing the country in the war on terrorism and we are proud of our heroes. He said that the terrorists, their sympathizers and supporters will be disgraced not only in this world but also in the hereafter. He said that the people of Pakistan stand shoulder to shoulder with their armed forces in the war for the country's survival. He said that we share the grief of the bereaved family.
Dr Tahir-ul-Qadri said that on the one hand, there are those who are giving exemplary sacrifices for the motherland and there are looters and plunderers on the other. He said that the legislatures that should have debated the ways and means and strategies to secure the life of the people and end the war on terrorism by inflicting a heavy defeat on terrorists are busy in enacting person-specific law to allow for the disqualified prime minister to hold on to the party's position.
The PAT Chairman said that the armed forces of Pakistan have single-handedly fought war on terror and rendered exemplary sacrifices. He said that the role of the civilian government has been regrettable to say the least, stating that it has presided over the failure of the National Action Plan. It rendered the apex committees ineffective and threw spanners in the works of the military courts. He said that the finance minister who has been declared as proclaimed offender by the accountability court is leading the life of a fugitive in a foreign land by feigning sickness instead of facing the corruption cases here in Pakistan. He said that it is the same finance minister who did not release funds to NACTA for two years at the behest of the ousted prime minister and thus he damaged the war on terrorism in a significant way.
Dr Qadri asked the nation to study the report written by Justice Qazi Isa of the SC to see the real face of the government's performance in the war on terrorism. He said that the military did its part of the duty in an excellent manner, whereas the civil government has focused its attention on loot and plunder instead of doing its part of the responsibility. He said had it have paid attention to its responsibility, Pakistan could have been rid of the monster of terrorism. He said that thanks to the sacrifices of the Pakistan army, a significant reduction has been noticed in the incidents of terrorism in the country.