Disqualified Nawaz Sharif avenging his disqualification on Pakistan: Dr Tahir-ul-Qadri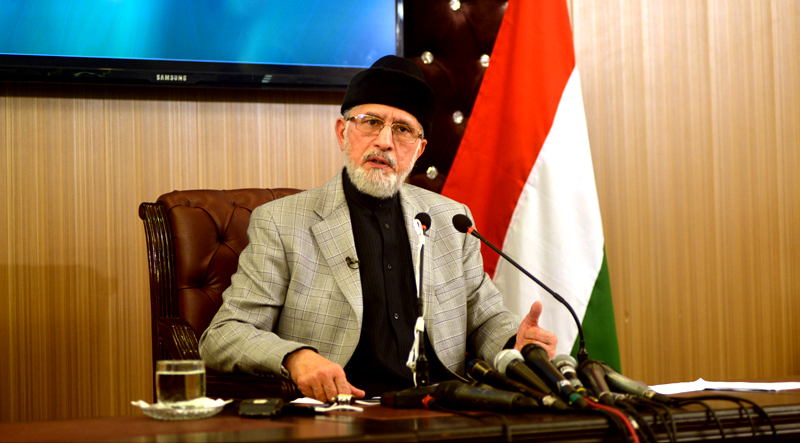 PAT leader Dr Muhammad Tahir-ul-Qadri has said that Nawaz Sharif is taking the revenge of his disqualification upon Pakistan. He said that it is not just one minister but the whole government that should resign. He said that there was virtually no government for 48 hours as the writ of the government and the system failed miserably. He said that situation took such a dire turn that the people were left with no option but to be besieged in their homes. He said that the government's decision to ban the news media as well as social network websites deprived the people of their basic right to know the truth. He said that he was sorry for the loss of precious lives in the clashes between the protesters and security forces. He said that at a time when the country was burning in the fire of lawlessness, where were the parliament and its chief spokespersons?
In a statement, Dr Tahir-ul-Qadri said that he never saw such worst circumstances the country was trapped in. He said that the situation is the making of the disqualified Nawaz Sharif. He said that the state institutions such as the apex court and the security institutions were taken under a planning, the belief in the finality of the prophethood was attacked and those who did it were shielded. He said that the purpose of all these actions was to get relief for the ousted premier. He said that if Nawaz Sharif can make a couple of senior ministers to leave office for his prestige, why cannot he get one minister to resign on such a critical issue as the finality of prophethood? He said that had the perpetrators of the Model Town tragedy been held accountable for their actions, the nation would not have had to see such a day. He said that only Allah knows as to why the national institutions are silent on the anti-state actions of Nawaz Sharif.