Dr Tahir-ul-Qadri asks United States to review its narrative on Pakistan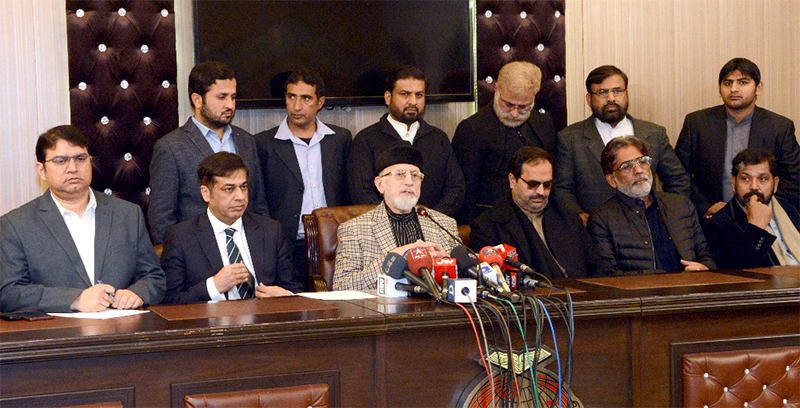 Addressing a hurriedly called press conference, PAT Chairman Dr Muhammad Tahir-ul-Qadri has asked the US government, Senate, think-tanks and the White House to review their narrative on Pakistan. He said that it is the terrorists who will stand to benefit from the efforts to weaken Pakistan as a state, adding that it will neither benefit the US nor Afghanistan with the result that terrorism that has long bedeviled the region will be further spawned. He said that Pakistan armed forces expended 75% of their military capabilities in the war on terrorism and asked if there is any other country that can present a similar example. He said that the tweet by the American President violates the accepted diplomatic norms and traditions. He said that protection of the national security takes precedence over politics of every kind. He said that disturbance in the bilateral relations between Islamabad and Washington is temporary, stating Pakistan never wanted to turn its back on the US but added in the same breath that a relationship has to be based on equality and respect for its sustainability.
Senior PAT leaders Fayyaz Warraich, Khalid Ahmed, Noorullah Siddiqi, Sajid Mahmood Bhatti, Jawad Hamid and others were present on the occasion. Dr Qadri said that the response of the Pakistani government to the presidential tweet is not disappointing but stated that a lot needs to be said on this count and the space is available for it. He said that India is geographically located thousands of miles away from Afghanistan and has no similarity of language, art, culture or religion with Afghanistan but asked as to why an attempt is underway to give it a role of regional hegemon. He said that Pakistan is a neighbour and shares many commonalities with Kabul, adding that any thought of 'divorcing' Pakistan should be shunned. He asked as to why India, which is involved in demolition of the Babri Mosque, Gujrat pogrom, and the incidents of massacres against the minorities including Muslims, has not been put under the watch list of religious freedoms.
Dr Tahir-ul-Qadri said that war against terrorism is our creed and the establishment of peace is our ideology. He said that separation of the US from Pakistan is not favorable to the efforts aimed at regional peace. He said that the recent actions seem to suggest that the Trump Administration wants to extend its stay in Afghanistan and needs a reason to justify itself.
The PAT Chairman reminded the US that while she suffered one 9/11, Pakistan has suffered 100s of mini 9/11s. He said that we have rendered the sacrifice of 73,000 precious lives and suffered a loss of $73 billion to our economy. We have been hosting millions of Afghan refugees for many decades now. He asked if the establishment of peace in the region is responsibility of Pakistan alone. What role have the US and India played in this regard? He said that the US has spent trillions of dollars in the war on terrorism but despite this, it has not been able to stop the terrorist incidents from happening in Log Vegas, Dallas and California. He said that linking terrorism to any particular region, country or a religion is a great injustice. He asked the Trump Administration to review its position on Pakistan instead of undermining her.
Dr Tahir-ul-Qadri said that the United States never established a relationship of friendship or partnership with Pakistan. It has only been engaged with us. With this in view, what is it that Washington is complaining about? He said that the minority communities are fully safe in Pakistan. They have played an incredible role for socio-economic development of their motherland. He said that one of former Chief Justices of Pakistan, Justice Bhagwandas, was a Hindu by religion. A number of members of the minority communities continue to hold important positions in different fields. He said that unilateral propaganda against Pakistan is regrettable and violates the sanctity of sacrifices rendered by Pakistan in the war on terrorism.
The PAT Chairman said that Nawaz Sharif remained foreign minister of Pakistan for four and a half years and cannot absolve himself of the responsibility. He said that India and certain other countries are worried over the ouster of Nawaz Sharif.
While replying to different questions, Dr Tahir-ul-Qadri advised Nawaz Sharif to protect his heart and mind from the danger of heart attack and brain hemorrhage by revealing the secrets he has been carrying. He said that he has many a secret in his heart as well, stating that whatever he has revealed is just 5% of the whole information. He said that no leader of PAT ever met the killers' mafia in connection with Model Town tragedy. He emphasized categorically that if any party leader meets the ruling party members with reference to Model Town, he will kick him/her out straightaway.
He said that the Steering Committee will decide on the next course of action vis-à-vis justice for the martyrs of Model Town. He said that the committee will meet on January 8 and decide accordingly. He said that the workers are ready for a 24-hour notice. He said that if the elections are held with reforms, no change will come about.