Nawaz Sharif in search of laundry to wash dirty linen of corruption: Dr Tahir-ul-Qadri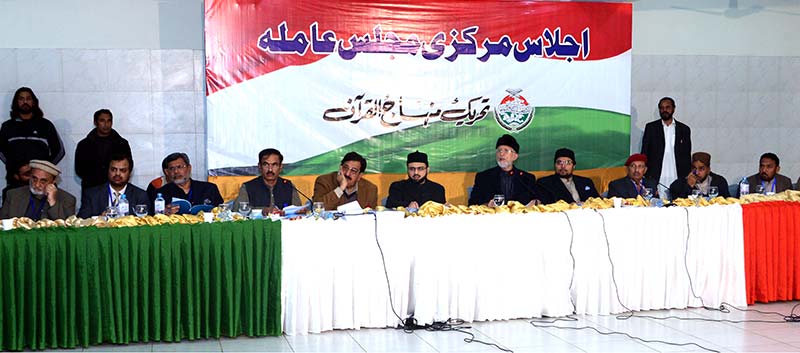 Addressing the meeting of the Central Executive Council, PAT Chairman Dr Muhammad Tahir-ul-Qadri has said that the end of Nawaz Sharif, who is a chief accused in the Model Town case, is near and his hue and cry means that it is actually so. He said that the ousted prime minister has been going from city to city to look for a laundry machine to wash the dirty linen of his corruption and disqualification which he is unable to find. He said that the so-called mantra of 'service and development' of the political elite is not going to have takers this time round. He said that those who are building pressure on the institutions for their vested interests in the garb of movement for justice will be kicked out completely. He said that the political public meetings that are attended by constables, gardeners and other lowly officials have no importance.
The members of the CEC from the four provinces attended the meeting. The CEC endorsed the resolutions demanding resignations of the Punjab chief minister and other people belonging to the ruling party and expressed its unwavering confidence in the leadership of Dr Tahir-ul-Qadri.
The meeting was attended by Dr Hassan Mohi-ud-Din Qadri, Dr Hussain Mohi-ud-Din Qadri, Khurram Nawaz Gandapur, Brig. (r) Muhammad Iqbal, Rafique Najam and presidents and general secretaries of other forums.
Dr Qadri said that Nawaz Sharif, who always expresses his pleasure on the threats of aggression by the foreign powers and the drone strikes, should tell the nation as to what deals he struck with the foreign powers. He said that we are on record as having stated that whenever Nawaz Sharif is in hot waters, either the situation on the border gets bad or unprovoked firing and shelling starts from across the border. He said that Nawaz Sharif indicted his own government in Jaranwala by reading out a charge-sheet against it.
The PAT Chairman said that if the prime minister and the federal cabinet have a bit of honour left, they should answer as to why the drone attacks are being carried out and why the country is being threatened? He said that with what face those responsible for shedding blood of innocent people are able to talk of justice and fair play in the country? He said that they were kicked out of power on telling lies in the Panama case but in Model Town case, they will meet their end. He said that their end is near and the findings of Justice Najafi Commission report have put a stamp of approval on their role in the massacre. He said that the Sharif brothers are making hue and cry to avoid punishment in corruption cases.