Dr Tahir-ul-Qadri welcomes anti-terrorism court's decision in Zainab case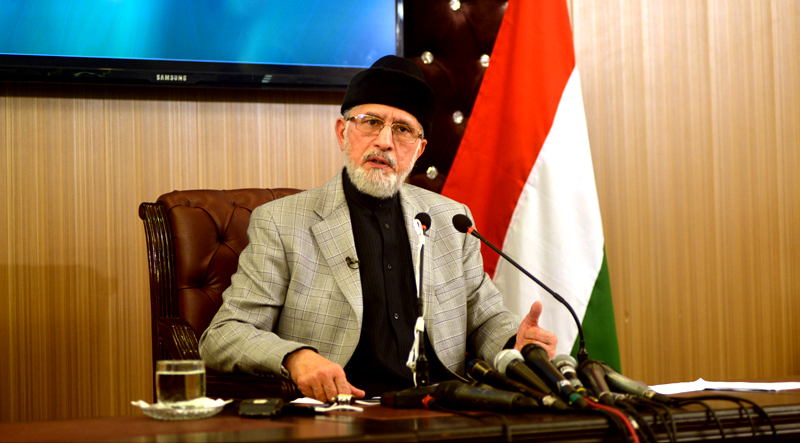 Dr Muhammad Tahir-ul-Qadri has welcomed the decision of capital punishment handed down to accused Imran Ali in the Zainab murder case and demanded that it should be implemented forthwith. He said that when the accused involved in the heinous crimes are not punished on time, it leads to promotion of crime, extremism, lawlessness and terrorism in the society. He said that every segment of society stood up for the cause of justice in the Zainab case. Media prominently highlighted the case; Chief Justice took suo moto notice; Army Chief took notice of the sad incident and promised cooperation of intelligence agencies and the Punjab government was the last one to wake up to the horrible crime and it was then that accused Imran was apprehended.
Dr Tahir-ul-Qadri said that many incidents of rape and murder took place in Kasur before the Zainab case. Since there was no media spotlight on the issues, no one took notice nor was any one moved into action. Reacting to the decision of the anti-terrorism court in which it announced the death penalty to the convicted Imran Ali, he said that the question is valid that had the police and government moved swiftly against the perpetrators of the first incident, many innocent young girls would have been saved. He said that the Kasur police further killed citizens when they protested over this despicable incident. He said that had media not become voice of the oppressed, the Zainab murder case would have been pushed into a corner.
Dr Qadri said that heart-rending incidents of abuse of the children have been taking place regularly in Kasur for a very long time, adding that such a racket of child abusers cannot work for so long without patronage. He said that there is something that the government is hiding.
He said that the announcement of death sentence to criminal Imran Ali will have provided a bit of comfort to the parents of Zainab. He said that in the same way scores of families whose nears and dears ones were martyred and injured in Model Town also await for the handing down of a similar punishment to the perpetrators of tragedy. He said that it has been four years and the culprits have yet to be rounded up and punished. He said that fact is that the judicial inquiry into the Model Town killings has unmasked the faces of the killers.
Dr Qadri said what to speak of arrests of the accused, even impartial investigation is being not allowed to be conducted. He said that after the release of Baqir Najafi report, the first order should have been that of initiation of new fair investigation into the massacre that was not given. He said the heirs of martyrs pray to the Chief Justice of Pakistan to take suo moto notice of Model Town tragedy.