Dr Tahir-ul-Qadri's services laudable: Sayyida Abida Hussain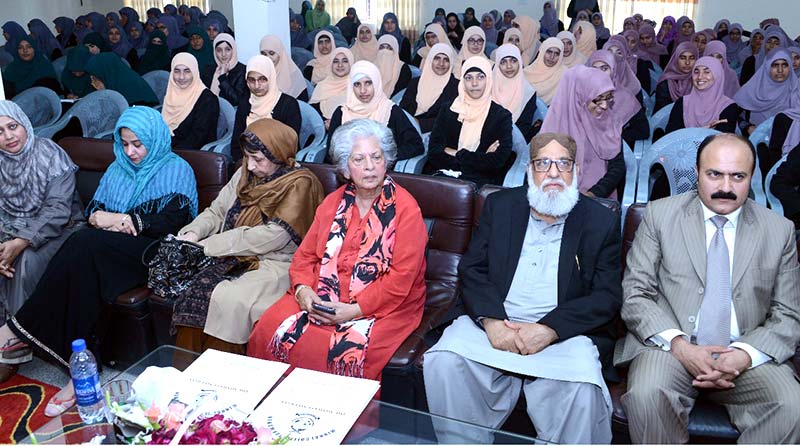 Sayyida Abida Hussain, former parliamentarian and ex-ambassador of Pakistan to the US, attended a prize distribution ceremony arranged by the Minhaj College for Women to honour its brilliant students.
Addressing the ceremony, Sayyida Abida Hussain said that in order to make the country developed and prosperous, a big chunk of national resources will have to be spent on the welfare and well-being of the women and girls. She said that taking steps for women empowerment is both national and religious duty and stated that she is happy that Dr Tahir-ul-Qadri has set up educational institutions that are benefitting thousands of students in general and girls in particular.
On her arrival in the College, Principal Dr Samreen Fatima, Humaira Naz, Aftab Qadri, Shahid Latif, Sheikh Amin-ud-Din and Sayed Amjad Ali Shah warmly received her. A cake marking the 67th birthday of Shaykh-ul-Islam Dr Muhammad Tahir-ul-Qadri was cut in the ceremony which was heavily attended by the teachers and students. They paid rich tributes to Dr Qadri for his meritorious services in different fields.
Sayyida Abida Hussain said that Dr Tahir-ul-Qadri's contributions in the areas of peace, promotion of knowledge and interfaith dialogue distinguish him in the world. She said that Dr Qadri projected peaceful, tolerant and moderate face of Islam in the world. She said that the need of the hour is that we fully benefit from his services and scholarship.
MQI leader Sheikh Amin-ud-Din said that MQI would continue its mission to struggle for the downtrodden sections of society under the leadership of Dr Tahir-ul-Qadri. He said that it was the day of reiteration of the pledge on the part of workers, stating that the goal of peaceful change will surely be achieved.
Dr Samreen Fatima said in her speech that the spread of network of educational institutions is a proof of Dr Tahir-ul-Qadri's friendliness towards knowledge. She said that in a span of 35 years, MQI has emerged as one of the leading NGOs in the world, committed to promotion of peace, interfaith dialogue and counter-terrorism struggle. She said that the credit for these achievements go to the leadership of Dr Tahir-ul-Qadri.
Director Minhaj Welfare Foundation, Amjad Ali Shah, said that today the workers have renewed their pledge to continue working hard for the lofty aims and objectives of MQI. Shahid Latif Qadri and Aftab Qadri also addressed the ceremony.