Youth is the hope of Pakistan & Muslim world: Dr Tahir-ul-Qadri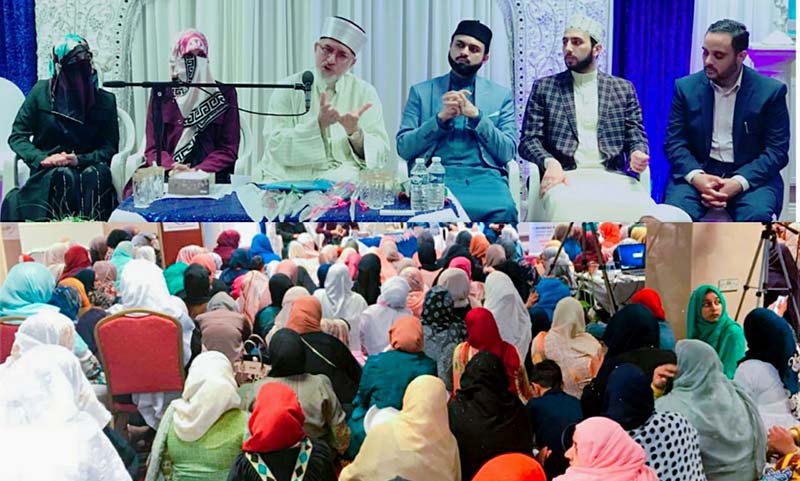 Addressing a huge convention organized by Minhaj Women League in Nelson North Zone in the UK, PAT Chairman Dr Muhammad Tahir-ul-Qadri has said that brain drain is happening at a massive scale due to rampant corruption, nepotism and extremism and no attention is being paid to stop this worrisome trend. He said that the political elite, which has been blinded by its craze for money and their incompetent progeny have looted Pakistan with both hands whose negative effects have enveloped every household and citizen. He said that if the corrupt and killer former rulers do not get punished as per the laws of the land, then Pakistan has a bleak future.
Dr Tahir-ul-Qadri said that we will not become part of a system that does not give opportunities of representation to the educated and talented youth belonging to the middle class. He said that those who build palaces in foreign lands cannot see the mud houses of the poor in the country. He said that he is worried to find out that the youth, which is 60% of the overall population, is concerned about their future but this has failed to attract any kind of serious deliberation and policy response from the elite to date.
Dr Qadri said that PAT and MQI are the rays of light amid darkness and every worker associated with these organizations, whether male or female, is a promoter of knowledge and a hurdle in the way of extremism. He said that we are spreading Islamic message of tolerance, knowledge and piety inside as well as outside of Pakistan, adding that his struggle will continue unabated till creation of complete awareness.
The PAT Chairman further said that our attention remains focused on character building of the next generations. He said that his message for the youth is that they should make acquisition of knowledge their topmost priority and shun conservatism because it leads to mental confusion and extremism. He said that we should be generous in our attitude towards others and think well of them. And during the free time, we should enlighten our hearts with remembrance of Allah Almighty. He said that the bright future of Pakistan and the Muslim Umma lies in the hands of the educated and talented youth, stating that the urge for development found among the youth is more powerful than an atomic bomb.
Dr Tahir-ul-Qadri further said that the basis of the development and marvelous achievements of the developed countries are the educated and honest people who have the ability to offer policy solutions to get their countries out of crises and then they ensure its implementation through dynamic institutions that are free of corruption. He said that Pakistan's Parliament needs such honest and credible representatives whose honesty is above board and who do not heed their personal interests. He said that there is no dearth of people who mean business and are desirous of bringing about real change in the country but the current system bars them from playing any meaningful role.
Dr Qadri said that the countries that were born after Pakistan have moved on fast and made a mark in various fields of life but corrupt political figures have created conditions that are far worse than those which prevailed at the time of 1947. He said that there was hardly a facility at the time of inception of the country but there was this passion to build which has now turned into a disappointment now. He said that there is no greater defeat for a nation than when it is confronted with disappointment.
The PAT leader asked the youth to get united and steer Pakistan out of darkness of corruption, ignorance and poverty through their active participation. He asked the education youth living abroad to come to Pakistan and serve the country in the fields of health, education and technology. They should sacrifice for the bright future of their countrymen, adding that it is through patriotism that they can change the circumstances.
MQI Supreme Council Chairman Dr Hassan Mohi-ud-Din Qadri, President of MQI UK Syed Ali Abbas Bokhari, MQI Supreme Council member Dr Ghazala Hassan Qadri and Basma Hassan Qadri were also present on the occasion.
Meanwhile Mufti Qari Hassan Raza, head of Idara Markaz-tul-Islami Bradford, called on Dr Tahir-ul-Qadri and lauded his role for the character building of the youth. He said that the lectures of Dr Qadri are very useful and enlightening for the youth. He said that he is happy to note that the youth of Europe listen to and read Dr Tahir-ul-Qadri very deeply. He said that Dr Tahir-ul-Qadri is a great blessing for the Muslim youth in this day and age defined by mischief and chaos.