MQI welcomes cabinet's decision for introduction of uniform curriculum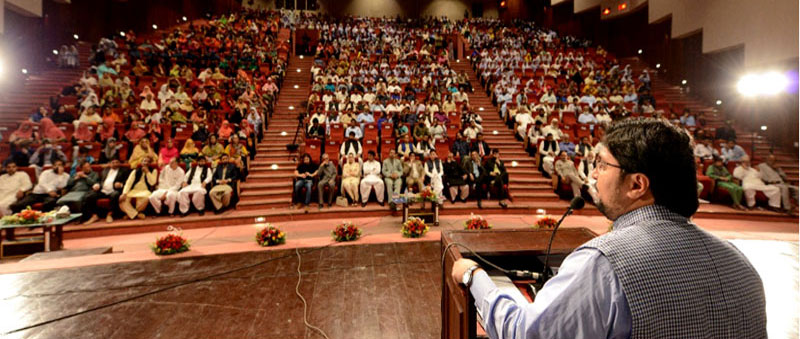 President of Minhaj-ul-Quran International Dr Hussain Mohi-ud-Din Qadri has said that we welcome the federal cabinet's decision to introduce the uniform curriculum and medium of instruction in the educational institutions. It is hoped that the new government will utilize all resources to fulfill this overdue national responsibility. He said that the imposition of uniform education is of utmost importance in connection with building a unified nation and doing away with hatred, biases of every kind and sectarianism. He said that the Holy Prophet (SAW) gathered the clashing tribes on the Holy Book. He said that Dr Tahir-ul-Qadri, founding leader of MQI, started his struggle for introduction of the uniform system of education since 1980s and implemented this vision in the form of establishment of Minhaj Education Society (MES). He has led a relentless campaign of public awareness in this regard for last three decades.
Dr Hussain Mohi-ud-Din Qadri made these remarks while addressing annual assembly session held under the banner of Minhaj Education Society in Al-Hamrah yesterday. He said that the cabinet's decision to introduce uniform curriculum across the country is appreciable but the real challenge lies in its implementation, because history tells us that many crucial policy decisions were announced earlier but they could not be implemented for different reasons.
Shields, awards and Farid-i-Millat scholarships were given to the bright students studying in the schools operated by Minhaj Education Society on the occasion. Additional Secretary Education Tariq Hameed Bhatti attended the annual assembly session as the guest of honour, whereas those present on the occasion included Brig. (r ) Iqbal Ahmad Khan, Khurram Nawaz Gandapur, DG MES Rashid Hamid Kaliami, Dewan Ghulam Mohi-ud-Din, Qasim Shah, Jamshed Cheema, MPA Saadia Sohail Rana, Musrrat Jamshed Cheema, Barrister Amir Hassan, Dr Ali Waqar, Saifullah Bhatti, Farooq Awan, Ikram Ghouri, Adnan Javed, Haroon Sani, Ateeq-ur-Rehman, and Amjad Ali.
Dr Hussain Mohi-ud-Din Qadri suggested the establishment of advisory council consisting of the experts for imposition of uniform curriculum that should be responsible for translation of this national agenda into reality. He said that the education department was ridiculed in the past. The funds allocated for it were spent on other luxurious projects. He said that according to Article 25-A, provision of free education to the students aged between 5 and 16 is the responsibility of the state of Pakistan. He demanded that the hundreds of thousands of students of religious seminaries should also be brought into the national mainstream. He said that curriculum taught at the seminaries and educational institutions should be amended in line with the demands of present times, warning that otherwise eliminating terrorism and extremism will become next to impossible. He said that the students of religious seminaries should get equal opportunity to become doctors, engineers, IT experts, bankers and professors.
Addressing the annual assembly, Additional Secretary Education Tariq Hameed Bhatti said that whatever profession one is part of, one should love it and work hard day and night to make a name in one's area of expertise. He said that if we remain loyal to our country, no power of the world can stop Pakistan from becoming prosperous.
The students of the different schools presented tableaus and skits and thus entertained the audience. DG MES presented the welcome note in which he thanked the honorable guests and presented a progress report of the Society. GM Malik, Shahzad Rasool, Raja Zahid and Sohail Ahmad Raza were also present on the occasion.