Dr Tahir-ul-Qadri inaugurates mobile clinic & lab van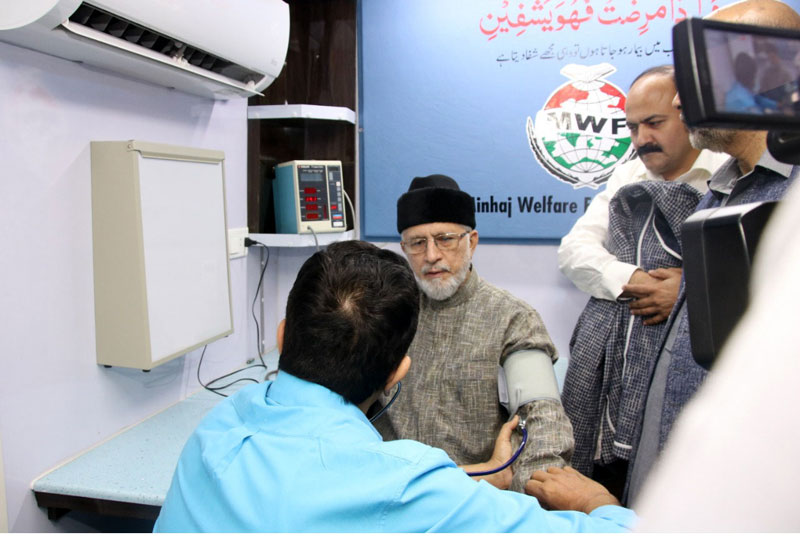 Shaykh-ul-Islam Dr Muhammad Tahir-ul-Qadri has said that more than half of our population does not have access to the basic medical facilities in the country. He said that when the poor are admitted to the hospitals, it is not the treatment but a list of medicines that they get. What to speak of treatment, the poor do not have the financial capacity to bear the expenses on the diagnosis. He said that the MQI Lahore office holders have rendered a great human service by launching modern clinic and lab mobile on self-help basis, stating that they deserve to be felicitated on this.
Dr Tahir-ul-Qadri made these remarks while addressing an inaugural ceremony of the mobile clinic and lab van that has been arranged by MQI Lahore chapter.
Briefing Dr Qadri, Engineer Sanaullah Khan, Hafiz Ghulam Farid, Ishtiaq Hanif Mughal, Ch. Afzal Gujjar, Haji Farrukh, Amna Batool stated that the mobile van project was completed at the cost of Rs. 7 million and the whole amount was collected on the self-help basis. They said that the mobile van will provide the facility of the tests in 30 areas of Lahore every day, stating that it is equipped with all the blood tests facility.
Sanaullah Khan told Dr Tahir-ul-Qadri that the mobile van will work for 30 days on 'no profit no loss' basis. He said that the project was conjured up with the thought of providing diagnosis and treatment facilities at the doorstep of the poor.
Dr Tahir-ul-Qadri congratulated the MQI Lahore leaders and the donors on the project. He said that tending after the sick and helping him/her in the treatment is a form of worship and a higher form of human service. He said that he was informed that the previous Punjab government spent Rs. 50 million on a similar project whereas MQI Lahore has completed this project at the cost of Rs. 7 million. He wished that one's greed could have been separated from the sacred work of saving and protecting the human lives. He said that those who squander funds meant for public health are as worse as the terrorists.
The PAT Chairman said that the mobile clinic project of the past government failed miserably before the end of its tenure. He said that MQI's mobile van project will work without spending even a single penny from the government's exchequer. He asked the Punjab government to make sure that the funds allocated for provision of the medical facilities for the people are spent 100 percent on their physical well-being. He said that it has often been observed that actual spending is often less than the allocated amount. He said that plugging the wastage of resources is good governance.
Khurram Nawaz Gandapur, Rafique Najam, Noorullah Siddiqi, Sayyid Amjad Ali Shah and others were present on the occasion.