Muslims should follow teachings of the Holy Prophet (pbuh) to regain glory: Dr Tahir-ul-Qadri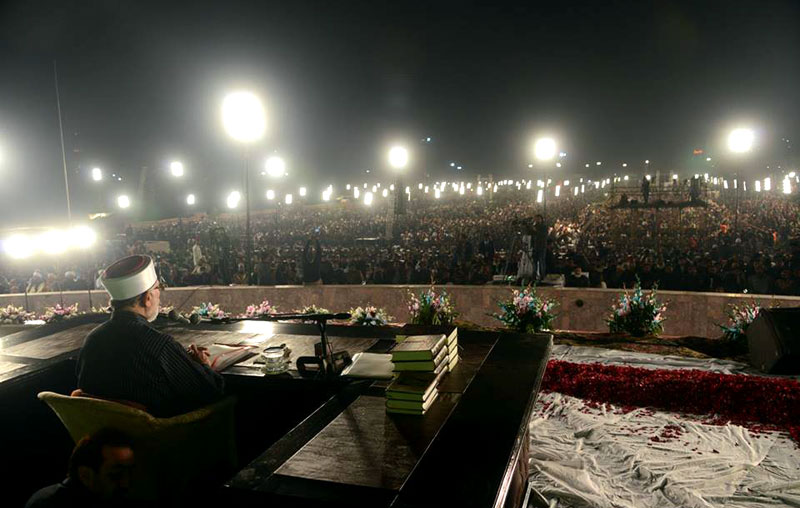 Addressing the 35th edition of International Mawlid-un-Nabi ﷺ Conference, Shaykh-ul-Islam Dr Muhammad Tahir-ul-Qadri, the founding leader of the MQI, has said that the Muslim world should replace their downfall with rise and glory by adopting the excellence of character and morality of the Holy Prophet (pbuh). He said that whenever the Muslims deviated from the Prophet's (pbuh) path, they plunged into the abyss of degradation and humiliation, adding that it is by following the life of our beloved Prophet (pbuh) that we can make our character exemplary both at the individual and collective levels. He made it categorically clear that unless we embellish our lives with 'Sira' of the Holy Prophet (pbuh), our morality and conduct will not improve with the result that materialism, and moral and spiritual disorder will continue to hold sway on us. He said that lack of the state when our hearts are purified has robbed us of our peace of mind, emphasizing that the Muslims are duty bound to revive their relationship of complete obedience to the Holy Prophet (pbuh).
Renowned religious scholars, political leaders, Mashaykh and the people belonging to different walks of life attended the Conference in large number. The hundreds of thousands of men and women and children from across the country were also in attendance. The renowned Qaris and Naat Khawan kept the atmosphere spiritually ecstatic with their melodious voices. There was a splendid display of fireworks after Dr Tahir-ul-Qadri concluded his speech that lit the skies with multiple colours. Balloons of different colours and pigeons were released into the air and the entire venue reverberated with the slogans of welcome and passionate reception.
The prominent among the honorable guests included Dr Hassan Mohi-ud-Din Qadri, Dr Hussain Mohi-ud-Din Qadri, former Punjab Governor Sardar Latif Khan Khosa, Chaudhry Salik Hussain, provincial ministers Mian Aslam Iqbal, Murad Raas, and Sahibzada Saeed-ul-Hassan Shah Gillani, PPP leaders Chaudhry Manzoor Hussain and Barrister Amir Hassan, renowned poet Zahid Fakhari and noted social activist, singer and philanthropist Ibrar-ul-Haq.