Quranic Encyclopedia to be inaugurated today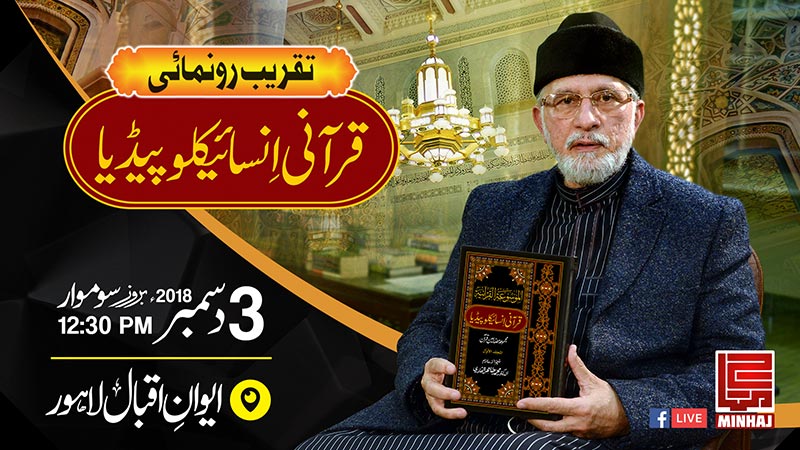 The inaugural ceremony of the Quranic Encyclopedia authored by Dr Muhammad Tahir-ul-Qadri will be held at Aiwan-e-Iqbal in Lahore today on December 3. Prominent people belonging to various walks of life including Governor Punjab Ch. Muhammad Sarwar, politicians, religious scholars and journalists will attend the inaugural ceremony. The event will start at 12 pm.
Meanwhile, while talking to the delegation of Minhaj Ulama Council, Dr Tahir-ul-Qadri has said that the Holy Quran is the code of conduct till the Day of Judgment encompassing the laws of the nature. The Divine Book offers guidance to the humanity on various challenges. He said that it guarantees peace and prosperity in the world and provides a basis for unity among the Muslims. He said that the MQI is a movement that is playing its role in urging the people to take a recourse to the holy Book that has all the solutions to the problems they are confronted with.
Dr Qadri said that the humanity's glory lies in understanding the message of the Holy Quran and their fall is in avoiding this great Book of Divine Wisdom. He said that the Muslims can achieve renaissance by acting upon the teachings of the Quran. He said that he is grateful to Allah Almighty Who enabled him to finish this onerous task. He said that domination of materialistic forces and rat race has deprived people of the attraction to focus on the larger message of the Divine Word. He said that among the factors that explain the downfall of the Muslims around the world is their staying away from the Holy Quran at the top. He said that the Islamic world can get rid of the monsters of terrorism, extremism, illiteracy and backwardness by returning to the Holy Quran.