Irfan ul Hidayah: A multidimensional Quran Learning Course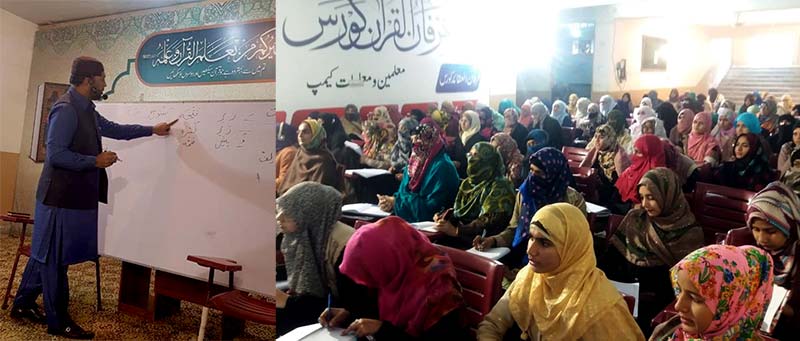 Irfan-ul-Hidayah, a grand project of Minhaj-ul-Quran Women League, is aimed at promoting Quranic teachings and culture in society through easy and scientific ways. This year during winter vacations, Al-Hidayah Quran Learning Course was launched for the students & the Quran scholars. The main purpose of initiating this camp was to produce educated Quran scholars for the society. With a large number of participants, this camp was started on 23rd December, 2018 and continued with daily lectures, workshops and individual interactive sessions.
President MWL Mrs. Farah Naz gave a motivational welcome note to all participants of the camp. She expressed her gratitude to Allah Almighty Who enabled the organizers to hold this event. She encouraged all students to put their best efforts to make the most of the camp. She urged the participants to explore their passions to serve the cause of regaining Islamic glory from the women of all walks of life.
Secretary General Women League Ms. Sidra Karamat briefed the participants about aims & objectives of camp. She said that the Holy Qur'an is an ultimate guidance for whole humanity. She said that all of us should learn the basics of the Quran sciences so that we can serve the society. She congratulated the entire team of Al-Hidayah and MWL for organizing this camp.
Mrs. Ayesha Mubashir, zonal Nazima Central Punjab and head of Irfan ul Hidayah camp, briefed the participants about schedule and format of whole camp. She also introduced scholars, Al-Hidayah and MWL teams to the camp participants.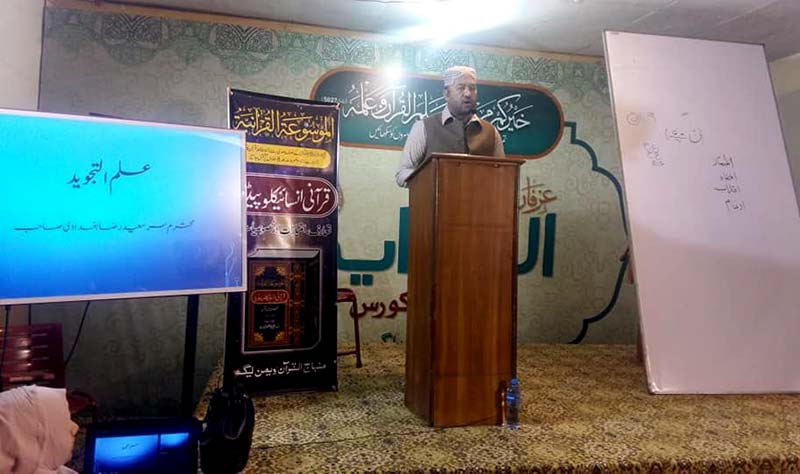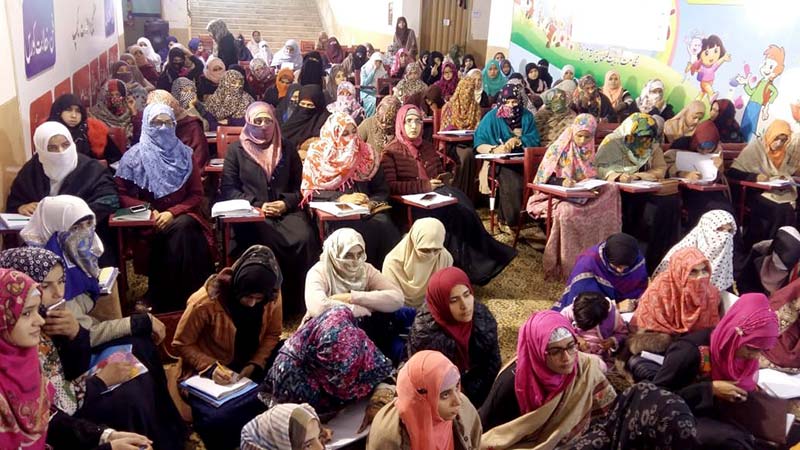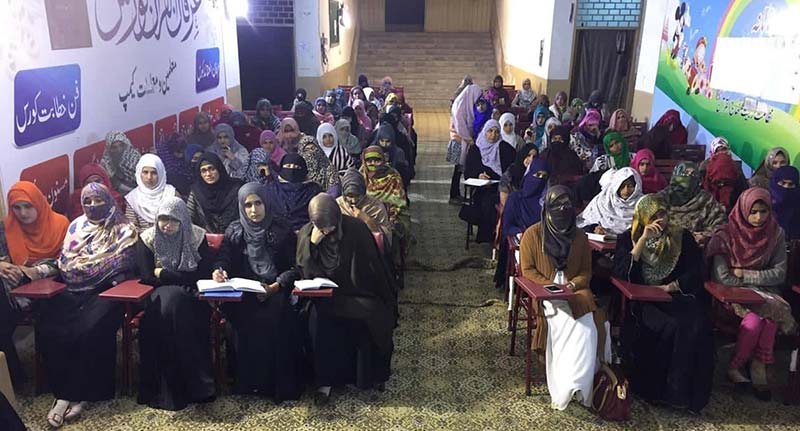 Camp Highlights
Tajweed Grammar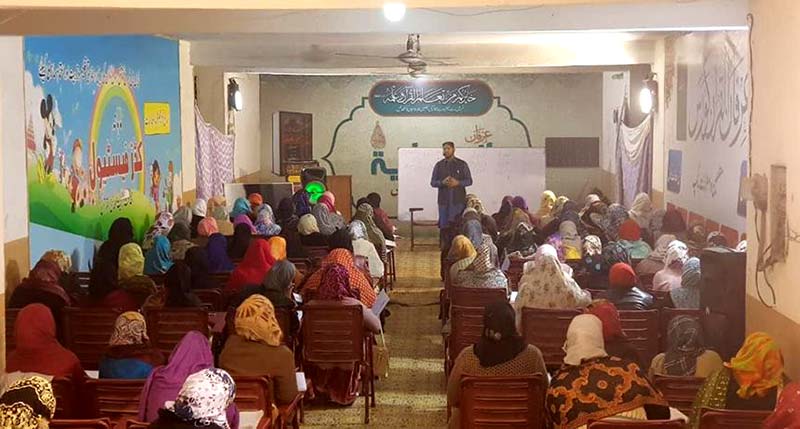 Hafiz Saeed Raza Baghdadi, a renowned Quran Scholar & Trainer Irfan ul Quran courses all, gave lectures on Tajweed and grammar. The main purpose of these classes was to enable students to correctly pronounce and recite The Quran with proper rules of Tajweed and grammar.
Translation Tafseer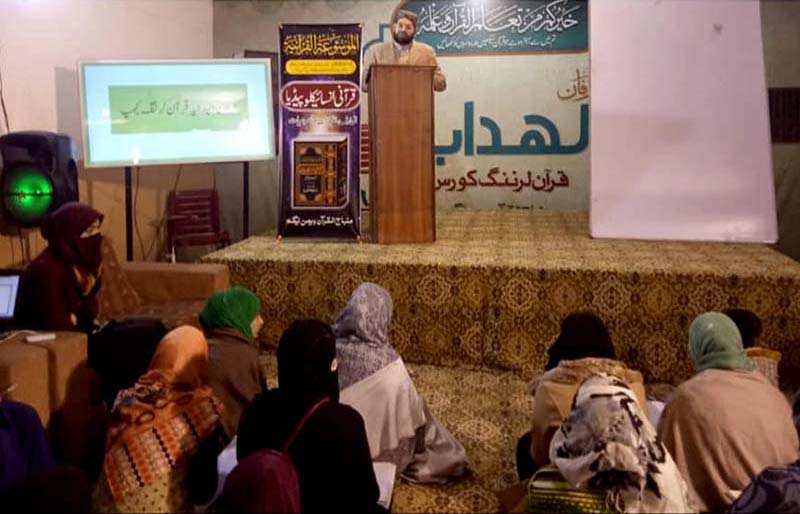 Renowned scholar and trainer from Minhaj ul Quran Training department Mahmood Masood threw light on the translation and Tafseer of first part of the Holy Quran. The idea here was to enable the students to grasp the meaning and subjects in each verse through practical demonstration and daily practical exercises.
Lectures on Usool-e-Hadith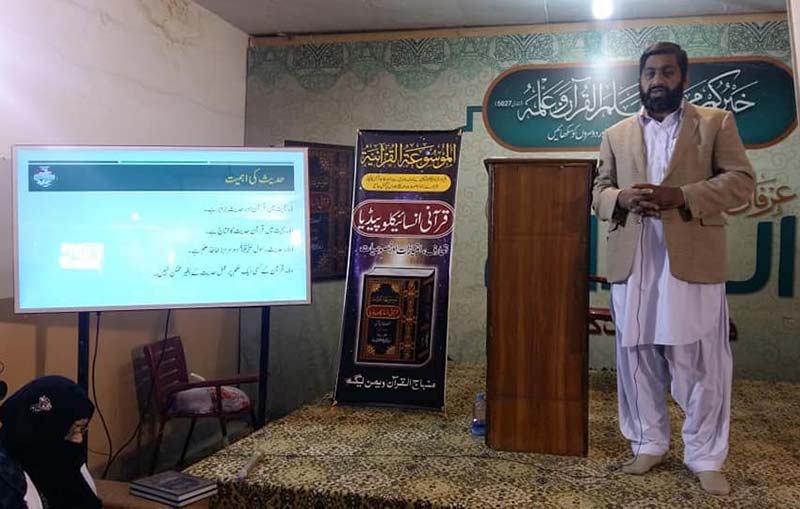 Allama Ghulam Murtaza Alvi, Director Training Department, Minhaj ul Quran International, delivered important lectures on the principles, and kinds of Hadith.
Lecture: The Importance of Ideological thoughts in a Muslim Woman's Life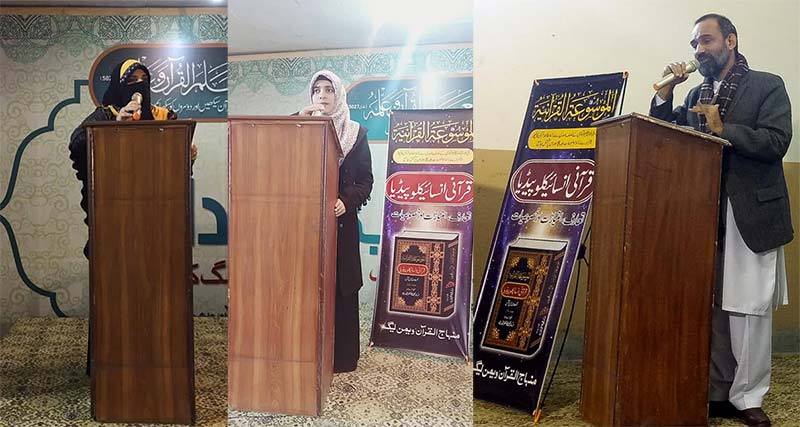 Dr. Tahir Hameed Tanoli, renowned scholar and Iqbal expert, delivered his lecture on the importance of ideological thoughts in a Muslim woman's life. He described the topic in the context of the independence movement of Pakistan, stressing that the women were part and parcel of the movement under the leadership of the Quaid-i-Azam.
Training & Motivational Session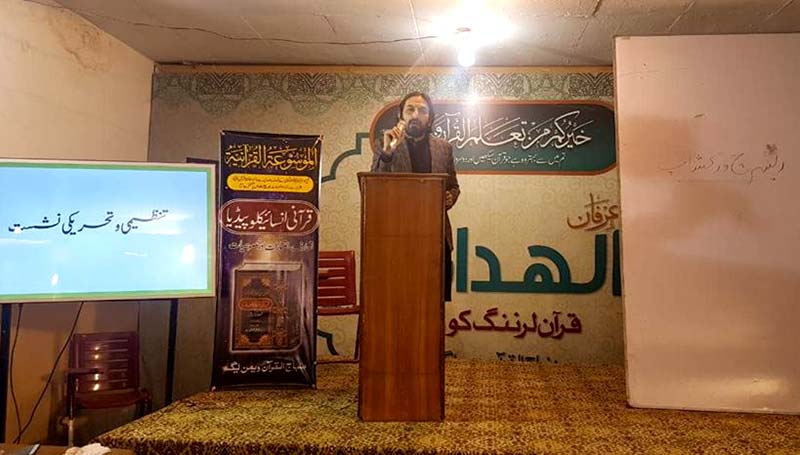 Training and motivational session was conducted by Tanveer Ahmad Khan, former MYL president and motivational speaker. He made the participants aware of the importance of an aim in a human Life, which is to get connected to our Creator by adopting the service to the humanity as the motto of life. He also emphasized that Dawat (inviting others towards Falah) is premised on the notion of extending helping to humanity, stating that this is the defining characteristic of the Muslims.
Individual Group Discussions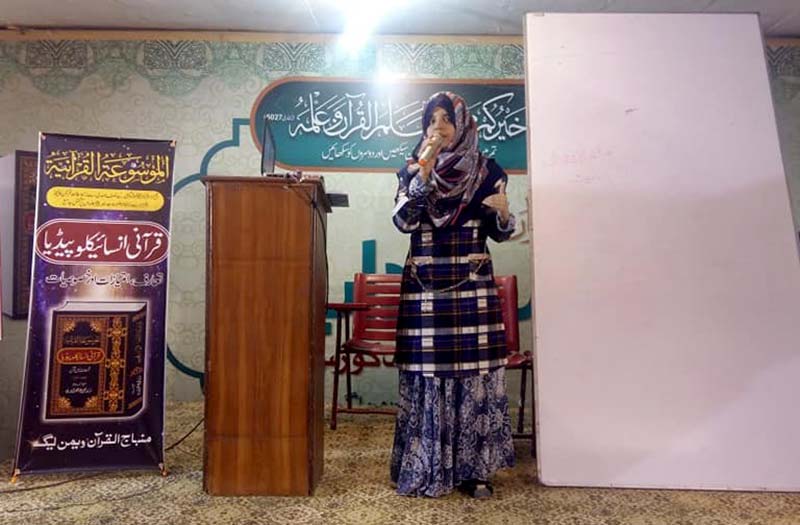 Individual and group discussions were conducted by MWL Secretary General Ms. Sidra Karamat, Mrs. Ayesha Mubashir and team Al-Hidayah in which the participants took active part and shared their opinions on a broad range of issues.
The purpose of the discussions was to motivate the participants to have the ability to understand and formulate issues in proper context and draw conclusions. The discussions were part of social awareness with an emphasis on women rights and how to safeguard them. In these tutorials, they were informed of the Quranic teachings on the human rights in general and the women rights in particular.
Training session on Personality development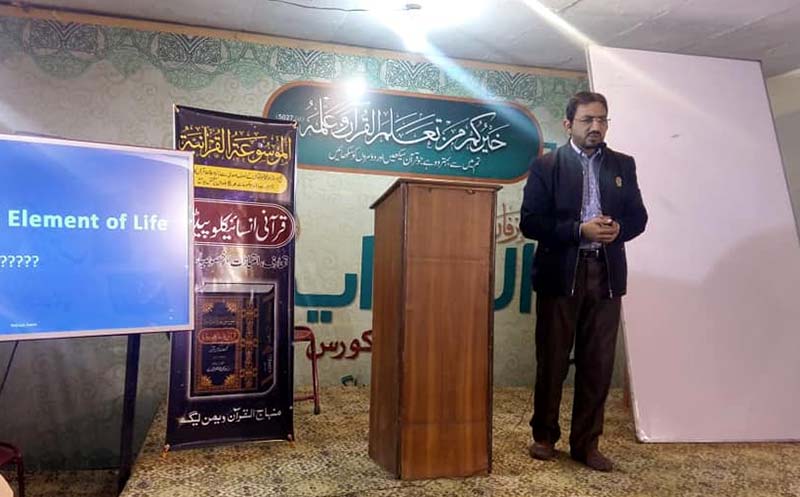 Vice President and training head Minhaj Youth League Haroon Sani conducted training session on personality traits and development. He highlighted that individuals can shape their personalities by developing their confidence, being assertive and projecting a positive image. He underlined the need for greater social interaction and learning to grow.
Durood & Nasheed circles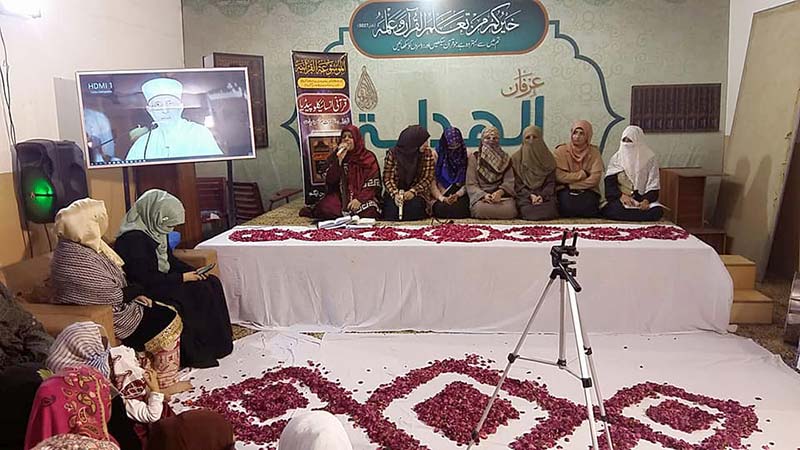 Durood and Nasheed circles were organized by Al-Hidayah team. The maor chunk of theses circles consisted of the speeches by Shykh ul Islam on different dimensions of Islam and society. The idea here was to educate the participants on ethical, social and spiritual aspects of training.
Research Workshop on Quranic Encyclopedia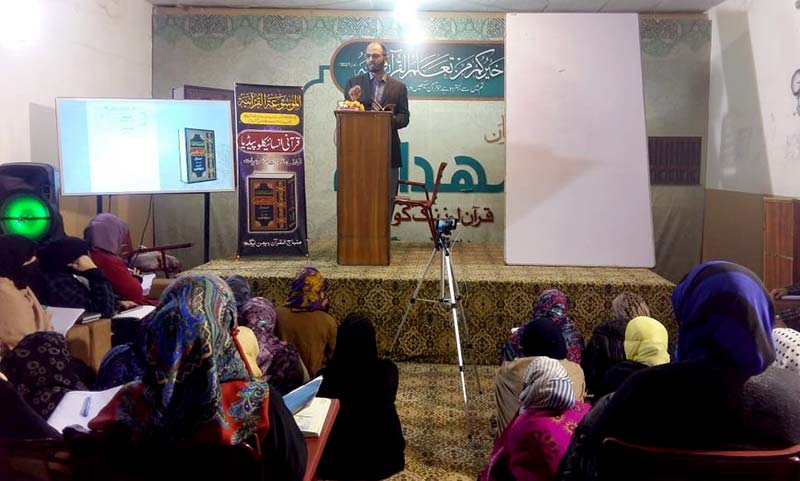 An important aspect of Al-Hidayah camp was a comprehensive workshop on the Quranic Encyclopedia: its significance, introduction of books and training on how to find topics from the Encyclopedia. The Encyclopedia consists of 8 volumes that have 5000 topics discussed in them.
Farooq Rana, Director FMRI, gave a special lecture in the workshop. He said the Encyclopedia, which is comprehensive in nature, is an intellectual treat for those conducting research on Islam as well as those interested in understanding the Divine Book. The people belonging to all walks of life will benefit from its reading in a big way. Later on, Miss Mamoona Nazeer and Al-Hidayah team arranged a workshop on how to work on and find topics from Encyclopedia. This mini exercise enabled the participants to learn the way to explore the topics from the Encyclopedia.
Dr Tahir-ul-Qadri was particularly lauded for his services in the field of education, interfaith dialogue, and harmony in the world.
Research scholar Ms. Mamoona Nazeer (FMRI) shared a plan of promoting the book and speech culture among the people. She explained the benefits of book reading including how this habit can equip us with knowledge to give better speeches.
Research Scholar and senior member MWL Mrs. Fareeda Sajjad explicitly narrated the characteristics of a Qur'an scholar and different modes and dimensions of acquiring productive knowledge from the authentic sources.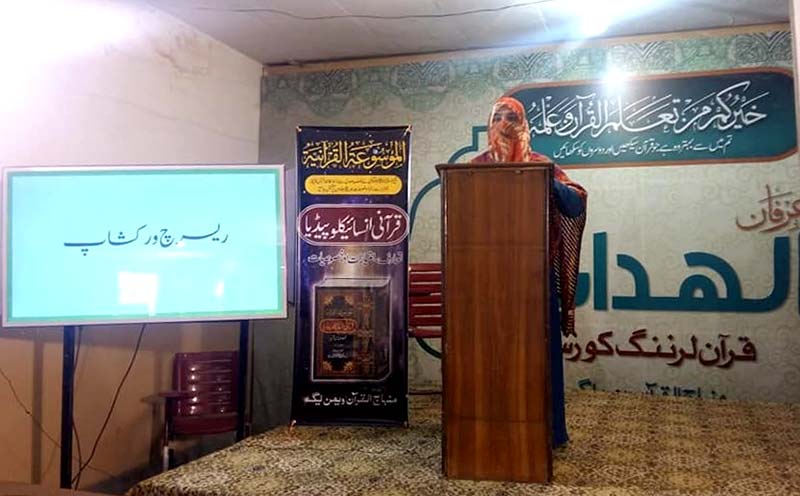 Mrs. Ayesha Mubashir, head Irfan-ul-Hidayah Quran Learning Course, elaborated the importance and target-oriented use of social media. She emphasized on the objectives and the effective ideological presentation while using the powerful source of social media; a medium of interacting globally. She said that social media is a fact of life that is central to shaping opinions. Therefore, the participants must get a basic understanding of this phenomenon and learn to use it productively.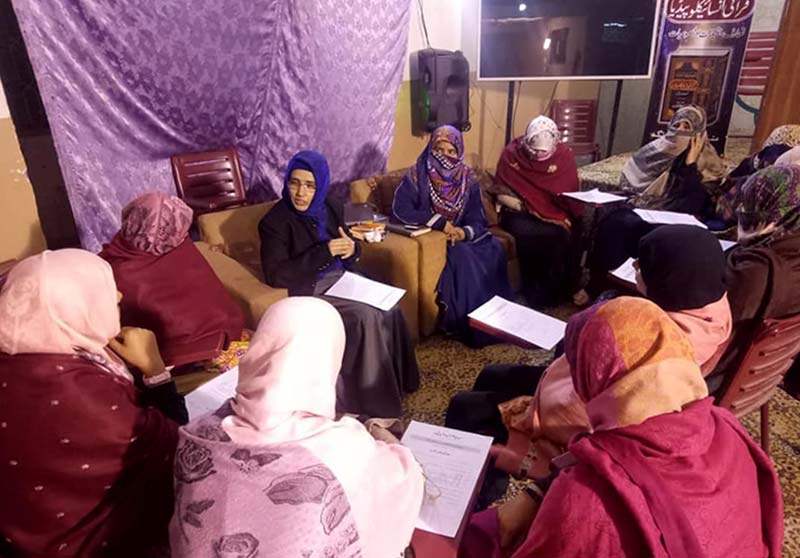 Mrs. Sadia Almas, lecturer (MCW) and trainer Irfan-ul-Hidayah, gave lectures on Islamic law and jurisprudence. She covered topics on purification, prayer, fasting, Zakat and Hajj in her lectures. She also answered questions raised by the participants on different aspects of these forms of worships.