68th birthday of Shaykh-ul-Islam Dr Muhammad Tahir-ul-Qadri celebrated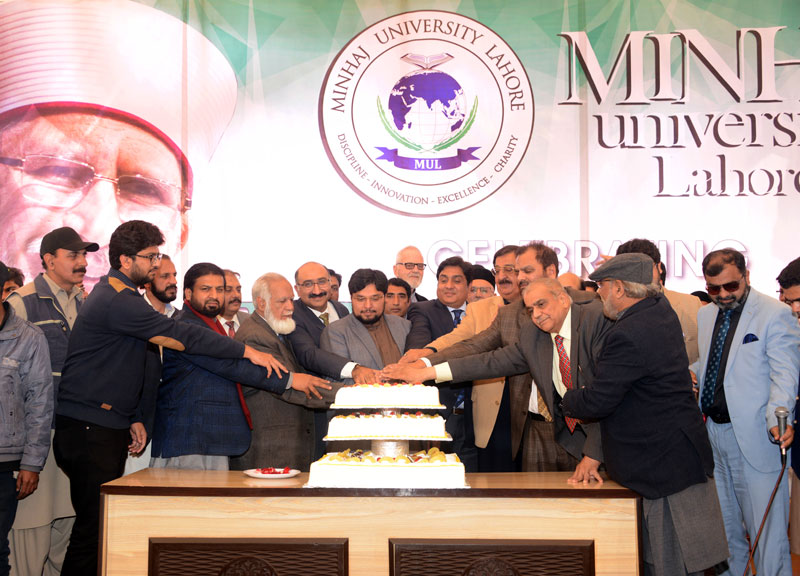 A special ceremony to celebrate the 68th birthday of Shaykh-ul-Islam Dr Muhammad Tahir-ul-Qadri was held at the Minhaj University Lahore on February 19. Dr Hussain Mohi-ud-Din Qadri, Dr Aslam Ghauri, Khurram Nawaz Gandapur, Brig. (r) Iqbal Ahmad Khan, Dr Shahid Soroya, Col. (r) Mubashir Iqbal, Barrister Amir Hassan, Mian Zahid Islam, GM Malik, Jawad Hamid, Adnan Javed, Shahzad Rasool, Sohail Ahmad Raza, Noorullah Siddiqi, Rashid Kalyami, Raja Zahid Mahmood, Deans, Heads of Departments and the students of the senior classes attended the ceremony.
Renowned batsman of Pakistan Cricket Team Azhar Ali also participated in the ceremony on special invitation and appreciated the efforts being made for character building of the youth. February 19 is also the birthday of Azhar Ali and the University administration expressed its greetings to the cricketer.
Addressing the birthday ceremony, Deputy Chairman BoG of Minhaj University Lahore (MUL) Dr Hussain Mohi-ud-Din Qadri said that unity fosters strength, which makes one achieve one's destination. He said that power is the essence that takes man closer to his objective. He said that knowledge, character, sincerity and constant struggle are the building blocks of progress and upward mobility. He said that if these qualities are concentrated in societies collectively, they become ideal ones. He said that the Quaid-i-Azam drew his strength by bringing diverse groups and viewpoints on one platform that he leveraged this strength to realize the dream of a new homeland for the Muslims of the sub-continent.
Dr Hussain Mohi-ud-Din Qadri said that Dr Tahir-ul-Qadri belonged to a middle class family. He gathered all these virtues in his personality and it is how he gave Pakistan the gift of unique institutions of knowledge and research, stating that today hundreds of thousands of people are benefiting from his scholarly research. He said that Dr Tahir-ul-Qadri has written over 1000 books with the recently published Quranic Encyclopedia being a top-notch scholarly initiative that is being acclaimed the world over, stating that the Encyclopedia has become the best seller in a span of one month of its publication. He said that the research work of Dr Tahir-ul-Qadri is not for any particular region, sect or school of thought but for entire humanity and the Muslim world. He said that both Muslims and non-Muslims study the books authored by Dr Qadri. He said that he has conveyed peaceful message of Islam to all societies and parts of the world. He said that Shaykh-ul-Islam is a leading Islamic scholar whose intellectual work comes up to every scholarly yardstick and various PhD theses are being done on his work.
Dr Hussain Mohi-ud-Din Qadri said that the peace narrative formulated by Dr Qadri and his scholarly work can be presented before the international scholars, faith leaders and societies of every temperament with pride. He said that the 600-page Fatwa against terrorism has silenced all those who tried to associate Islam with terrorism and extremism and forced them to review their positions based on defective study and misunderstandings. He said that the Fatwa has satisfactorily addressed and rebutted all allegations against Islam and promoted the peaceful image of Islam to the world.
Dr Muhammad Aslam Ghauri, Vice-Chancellor of Minhaj University Lahore, said on the occasion that 700 educational institutions including a chartered national level university and Islamic centres worldwide represent an incredible service of Islam, stating that these institutions are benefiting millions of people inside as well as outside of Pakistan.
Khurram Nawaz Gandapur said that Dr Tahir-ul-Qadri has protected the youth from 'Takfiri' onslaught by giving peace curriculum. Dr Shahid Soroya thanked all the audience for their time and participation in the ceremony.
The students of the IT Department presented documentary on life and work of Dr Tahir-ul-Qadri which was greatly appreciated. Three Umra tickets were also distributed among the lucky winners at the conclusion of the ceremony.