Study of the Holy Quran eradicates extremism, hatred: Dr Hussain Mohi-ud-Din Qadri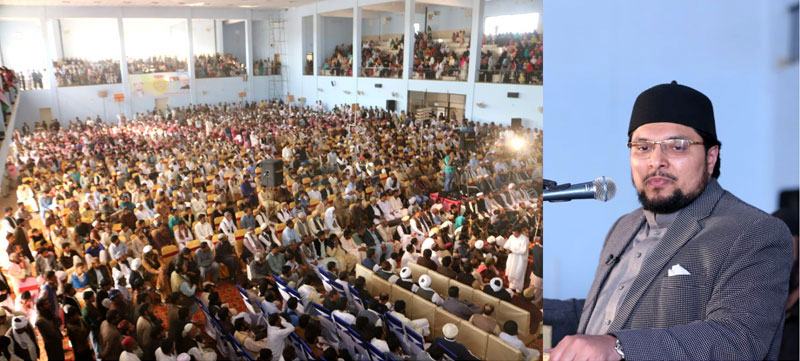 President MQI Dr Hussain Mohi-ud-Din Qadri has said when someone studies the Holy Quran with concentration, hatred and extremism are removed, replaced by the feelings of love, brotherhood and sacrifice. He said that the Holy Quran negated the division of people based on caste and creed and gave the concept of collectivity or human association. He said that the Holy Quran offers the right path for guidance of humanity.
Dr Hussain Mohi-ud-Din Qadri expressed these views while addressing a big gathering on the occasion of the launch of the Quranic Encyclopedia compiled by Shaykh-ul-Islam Dr Muhammad Tahir-ul-Qadri. Rana Muhammad Idrees, Malik Amjad Kahawar, Ziaullah Abbasi, Ahmad Hassan Khan, Rana Sagheer, Sahibzada Muhammad Ibrahim, Dr Abdul Ghafoor Subhani, Qari Fateh Khan, Mufti Tayyab Arshad, Altaf Khan, Juma Khan, Sahibzada Sibghatullah Qadri, Sabir Khan, Dr Aslam Khan, Umar Deen, Shaukat Mustafavi and Muhammad Shareef were present on the occasion.
Dr Hussain highlighted the need of studying and meditating on the message of the Holy Quran in this age marked by mischief. He said that the Holy Quran contains solutions to all problems faced by humanity and the Islamic world. He said that it is not just a sacred Book but one of wisdom and guidance, containing secrets to understand the universe and unlock the hidden knowledge of various sciences and disciplines. He said that the MQI under the leadership of Dr Tahir-ul-Qadri is working to spread the Quranic thought. He said: "This struggle has created a lot of influence among the people, enlightening their hearts and giving them a greater understanding."
Meanwhile, Dr Hussain Mohi-ud-Din Qadri also addressed another gathering held to mark the inauguration of the Quranic Encyclopedia in Khushab. He said that thanks to the efforts of MQI, the scholarly traditions of our ancestors with regard to the study of the Holy Quran are being revived today, adding that the results of this struggle have also started to appear. He said that the Encyclopedia has opened new doors of understanding in terms of the Quranic studies and it is helping understand the Word of God.
The Khushab gathering was attended by Prof Muhammad Ahsan Mazhari, Prof Qayyum Zaman, Rana Muhammad Idrees, Mahwish Iqbal Awan, Mazhar Mahmood Alvi, Mansoor Qasim Awan, Inam Mustafavi, Syed Mohsin Raza Shah Naqvi, Ghulam Rasool Shah, Tanvir Ahmad, Syed Shamsul Arifeen, Prof Khalid Jilani Tiwana, Abdul Majid Alvi, Abdur Rahman Awan, and Ahsan Chishti. The representative of other political and religious parties and the media community were also in attendance.