Dr Tahir-ul-Qadri to launch the English version of Quranic Encyclopedia on Aug 4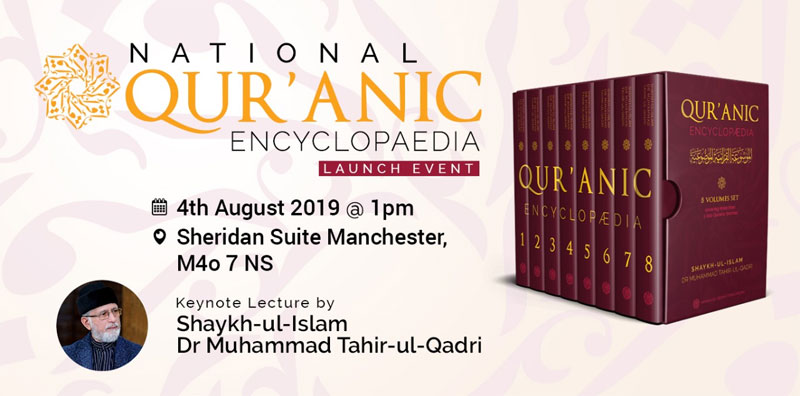 The 8-volume Quranic Encyclopedia authored by Shaykh-ul-Islam Dr Muhammad Tahir-ul-Qadri in Urdu originally has been translated in English. The launching ceremony of the English version of the Encyclopedia will take place in Manchester on August 4 under the banner of the MQI (UK). Shaykh-ul-Islam Dr Muhammad Tahir-ul-Qadri will be the guest of honour and will deliver a keynote speech on the occasion. The people belonging to various walks of life including the members of the Pakistani expatriate community will attend the ceremony.
Talking to different delegation delegations of overseas chapters of the MQI, Dr Tahir-ul-Qadri said that the English translation of the Quranic Encyclopedia after its publication in the Urdu language is an attempt to convey the universal message fo the Holy Quran in every nook and corner of the world. He said that a major segment of the Muslim community lives in Europe and North America that is more comfortable in the use of the English language.
Dr Qadri said that the Quranic Encyclopedia represents a comprehensive effort to date to convey the Quranic philosophy of the establishment of a peaceful society and interfaith harmony to all segments of society. He said that the Encyclopedia is being translated in other languages of the world as well. He said that Allah Almighty has enabled the MQI to convey the real teachings of Islam to the followers of other faiths as well as the Muslim Umma.