Minhaj University organizes third International Islamic Economics & Finance Conference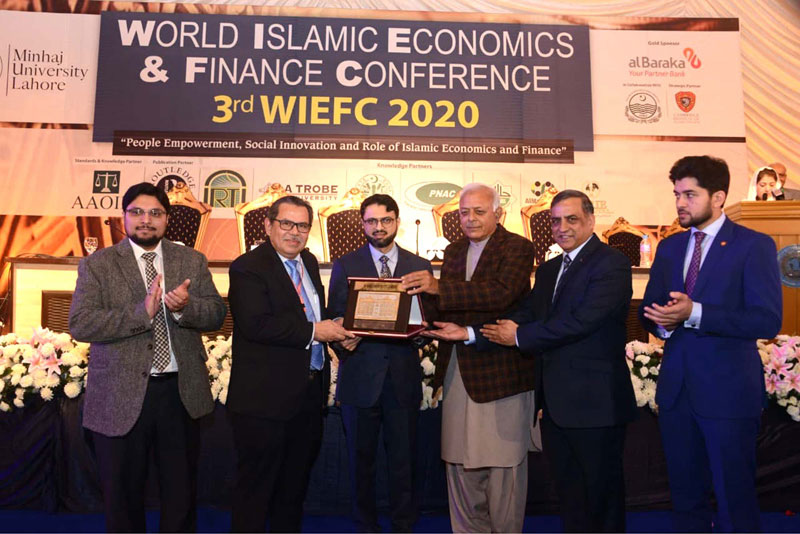 LAHORE (25 JAN 2020) The third two-day World Economic and Finance Conference organized by the Minhaj University Lahore opened here on Saturday. Economists from across Pakistan and various other countries are attending the moot.
Federal Aviation Minister Ghulam Sarwar Khan, who was the guest of honour, said at the opening session that the present government is committed to the restoration and development of the economy. He said we will welcome suggestions from the academia and national and international economists in this respect. He said that holding a conference on important issues of the economy by Minhaj University is a remarkable national service and that he was happy to see that higher education institutions getting involved in the struggle to overcome economic challenges.
The Federal Minister said that Islamic banking has great potential and that's why this sector is thriving in the world. He congratulated Dr. Hussain Mohi-ud-Din Qadri, Deputy Chairmen Board of Governors MUL and university administration for organizing brainstorming sessions pertaining to the important subject of economy. He also lauded services of the university in the promotion of quality education.
Addressing on the occasion, Dr Muhammad Ishaq Bhatti of La Trobe University, Australia, said that Islamic banking should be promoted in order to implement the economic model of the state of Medina. The conference organized a panel discussion on the subject of 'Implementing the Economic System of the State of Medina in the Islamic world.'
Prof. Dr. Mughees Shaukat, Professor of Central Bank of Oman; Vice President PBE Islamabad Prof Syed Amir Ali; Dr Dawood Ashraf from Saudi Arabia, and Divisional General Manager Habib Islamic Bank Munir Ahmad Josson expressed their views in the discussion.
Prof. Dr. Azmi Omar, President and Chief Executive Officer of International Center for Education in Islamic Education, Malaysia, was given Life Achievement Award by Dr Hassan Mohi-ud-Din Qadri, Chairmen Supreme Council Minhaj-ul-Quran International. Memorial shields were also given to Federal Minister Ghulam Sarwar Khan and Dr. Asad Zaman. Dr. Hussain Mohi-ud-Din Qadri, Vice-Chancellor Dr. Sajid Mahmood Shahzad, and Pro Vice-chancellor Dr. Shahid Saroya welcomed the national and international guests. Prominent among them were Minhaj-ul-Quran Supreme Council Chairman Dr Hassan Mohi-ud-Din Qadri, former education minister Mian Imran Masood, Khurram Nawaz Gandapur, Brig. (r) Iqbal Ahmad Khan and others.
Dr. Sajid Mahmood Shahzad, Vice-Chancellor MUL, said Minhaj University ventured on a quest to bring the leading national and international economists, bankers, financiers, executives, businessmen, legislators and researchers under one platform in 2018, with the aim to address the ever-changing economic issues of the Islamic world and Pakistan. The conference recommended a counter-strategy to thwart the economic crisis caused by poverty, unemployment and unwanted wars. This aim can be achieved through the concept of "Taqlid al-Madhahib" based on Shaykh-ul-Islam Dr. Muhammad Tahir-ul-Qadri's vision to build bridges among various schools of thought to promote global Islamic finance.
Dr. Muhammad Shahid Soroya, Pro-Vice-Chancellor MUL, while welcoming the participants of the conference said: The WIEFC (2020) envisages addressing local and global challenges of Islamic finance and economics and tries to grasp the economic lessons from the state of Medina and offers them as solutions to the financial problems of the Muslim world.
The panelists of the first-day session asked as to what makes the trader, banker, agriculturist or research and development scientist perform his job to the best of his ability? In capitalist economies, it is the notion of competition. This involves the necessity to constantly produce more new things for profit to keep up with others and this makes for wastage and often generates unbridled greed. But in an economy based on Islamic principles, the idea of man representing God on earth gives businessmen a feeling of co-operating with others for the good of society as a whole. Thus Quranic guidance enables man to conserve and use prudently all the resources of the earth that God has given mankind on the very doctrines of state of Medina.