Unwavering resolve leads to the destination: Dr Hussain Mohi-ud-Din Qadri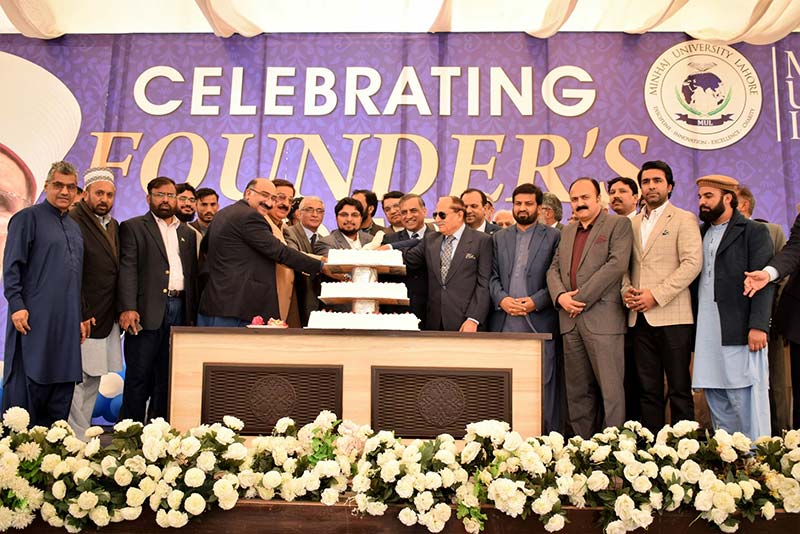 Merit scholarships were presented to 19 male and female students on their excellent academic performance on the occasion of the 69th birthday of Shaykh-ul-Islam Dr Muhammad Tahir-ul-Qadri. Three staff members from the Minhaj University Lahore were also awarded three Umra tickets through a draw.
Speaking on the occasion, Dr Hussain Mohi-ud-Din Qadri said that merit scholarship of Rs. 2.6 million was given to different male and female students in recognition of their educational achievements. He said partial concessions were also given to hundreds of students studying in the educational institutions of MQI which adds up to millions of rupees. He said the vision of MQI is to provide the best educational facilities to the bright and talented students belonging to the poor families. He said determination and resolve makes one reach one's goal.
Dr Hussain Mohi-ud-Din Qadri said that Dr Tahir-ul-Qadri has always maintained that success and failure do not matter as long as one continues to make determined efforts. He said whosoever continues his struggle with sincerity of purpose for the attainment of lofty objectives, he is destined to achieve success. He said the greed of success and fear of failure undermines and weakens the man.
The ceremony was attended by Khurram Nawaz Gandapur, VC MUL Dr Sajid Mahmood Shahzad, Pro-Vice-Chancellor Dr Muhammad Shahid Soroya, Brig. (r ) Iqbal Ahmad Khan, renowned anchorperson Ajmal Jami, former manager Pakistan Cricket Board, Azhar Zaidi, Noorullah Siddiqui, Raja Zahid Mahmood, Syed Amjad Ali Shah, GM Malik, and other leaders.
Dr Sajid Shahzad, while speaking on the occasion, said that Dr Tahir-ul-Qadri is not only the asset of Pakistan but also of the Muslim world. He said the services and contributions made by Dr Qadri both inside and outside of Pakistan are indeed enviable. He said Dr Tahir-ul-Qadri founded Minhaj University Lahore, which is working as per his vision. He said the vision to produce educated and enlightened students who are willing to contribute to the national progress.
Khurram Nawaz Gandapur said in his speech that following a successful person means to take a leaf from his book. He said Dr Tahir-ul-Qadri loved books all his life. He urged the youth and students to cultivate a relationship of love with the books for success in life. He said the institution like MUL is the outcome of the vision of Dr Tahir-ul-Qadri.
The cake marking the 69th birthday ceremony of Dr Tahir-ul-Qadri was cut and a special Dua was made for his good health and long life. A documentary on the life and services of Dr Tahir-ul-Qadri prepared by the Mass Communication Department was also shown on the occasion which was liked very much by the audience. The Quaid Day ceremony was attended, among others, by Dr Muhammad Aslam Ghori, Col (r) Muhammad Ahmad, Sabih Salahuddin, Haider Ali, Rabia Mahboob Ali, Abdur Rehman, Robina Saeed, Dr Jamal Abbasi, staff and faculty members, and the students.