Dr Tahir-ul-Qadri asks government to revise policy towards the lockdown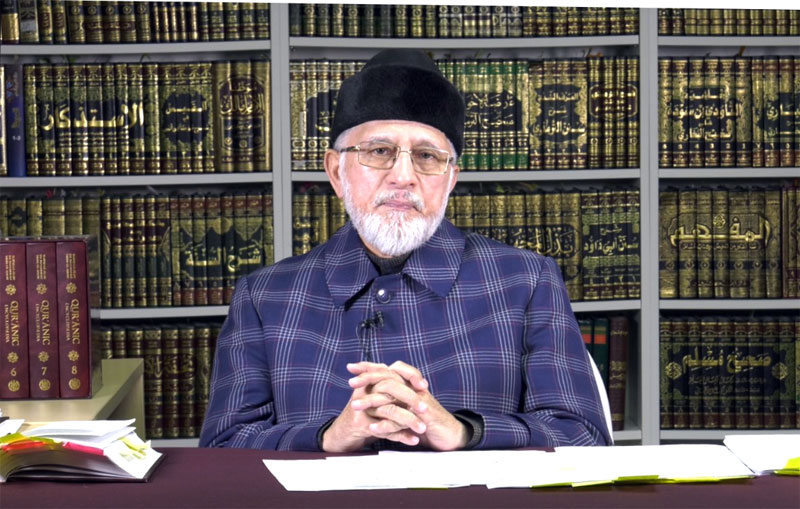 MQI founding-leader Shaykh-ul-Islam Dr Muhammad Tahir-ul-Qadri has said that Allah Almighty has given concession in the performance of obligations when the matter is related to the protection of human life. He said saving human life is a superior act. He said that there are 25% of asymptomatic people who have Coronavirus but the symptoms do not appear. He asked the government to revise its policy vis-a-vis the lockdown.
Dr Tahir ul Qadri said that unemployment is increasing very fast, adding that working out a comprehensive strategy to deal with it is a great challenge. He said that there is no harm in allowing the low-risk economic activities in the cities that do not have the complaints of the spread of the virus on an experimental basis. He asked religious scholars to give importance to the protection of human life over everything else.
Dr Tahir-ul-Qadri said that the arguments about the performance of prayers in the mosques are not a matter of any specific school of thought; rather this matter is related directly to the teachings of the Holy Quran and Sunnah. He said that Islam has enjoined its followers to protect human life at any cost. He further said that there is a permission to offer prayers and the Friday prayer at home in case of an epidemic. He said that there are many prophetic traditions about this issue.
Dr Qadri said that no mosque or a place of worship is superior to the Two Holy Mosques where a single prayer has more thousands of times more reward and value than any other ordinary player. He said that if the congregational prayer can be suspended there due to the pandemic, why the same cannot be done in other worship places? He said that as long as the virus is there, the religious scholars should start the lectures on the Holy Quran and Hadith through information technology.
Dr Qadri said that persuading people to the gatherings for the sake of worship during an epidemic will violate the teaching of the Holy Prophet (SAW). He said that the Holy Prophet (PBUH) clearly directed the believers to stay away from each other during the epidemic. They should neither go to the affected areas nor should get out of them if they are already there.
Dr Qadri said that all the precautionary guidelines need to be implemented in order to protect oneself from the Coronavirus. He, however, added in the same breath that there is a need to take urgent steps for the protection of the economic interests of the workers and laborers who lost their jobs due to the lockdown.