Shaykh-ul-Islam Dr Muhammad Tahir-ul-Qadri to deliver special lectures during Ramazan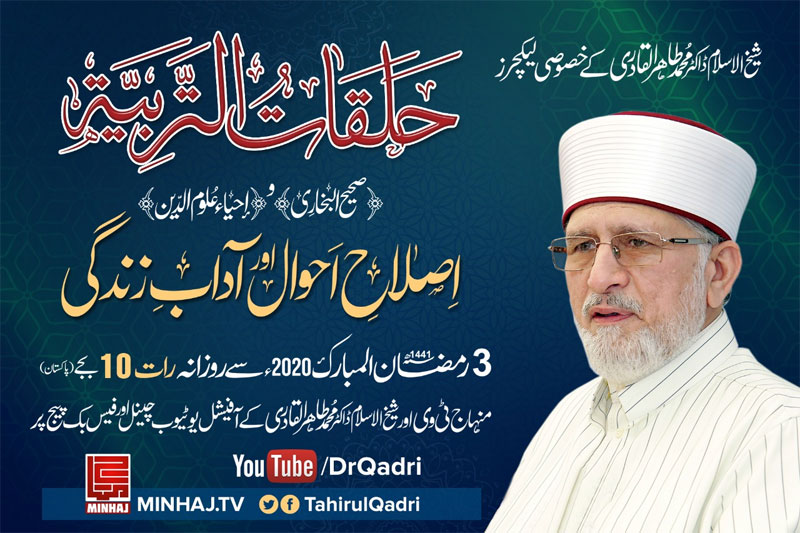 MQI founding-leader Shaykh-ul-Islam Dr Muhammad Tahir-ul-Qadri will deliver special lectures on the etiquettes of life (Islah-e-Ahwal & Aadab-e-Zindagi) daily during Ramazan-ul-Mubarak. His lectures will be accessible after Taraveeh prayer at his YouTube channel, Minhaj TV and Facebook page.
There will be a total of 40 lectures and the series will be named Halaqat al-Tarbiyya (Sahih al-Bukhari wa Ihyaʾ ʿUlum al-Din). Dr Tahir-ul-Qadri said that he will focus on the etiquette of life and on how to improve one's life and mutual relations, strengthen one's relation with Allah and reform thinking. These topics have been taken from Sahih al-Bukhari as well as Imam al-Gazali's book Ihyaʾ ʿUlum al-Din.
A common man and not academia has been kept in mind in deciding the nature of these lectures. Those benefiting from these lectures will feel a clear change in their lives.. He further said there is not a single aspect of human life about the Quran and Sunnah have not provided guidance.
Because of lockdowns in the wake of Covid-19, people are usually free and for the best use of this time and to ensure maximum benefit from the spiritual blessings of Ramazan-ul-Mubarak, these lectures address the training requirements of people.