A Profile of Prof. Dr. Hussain Mohi-ud-Din Qadri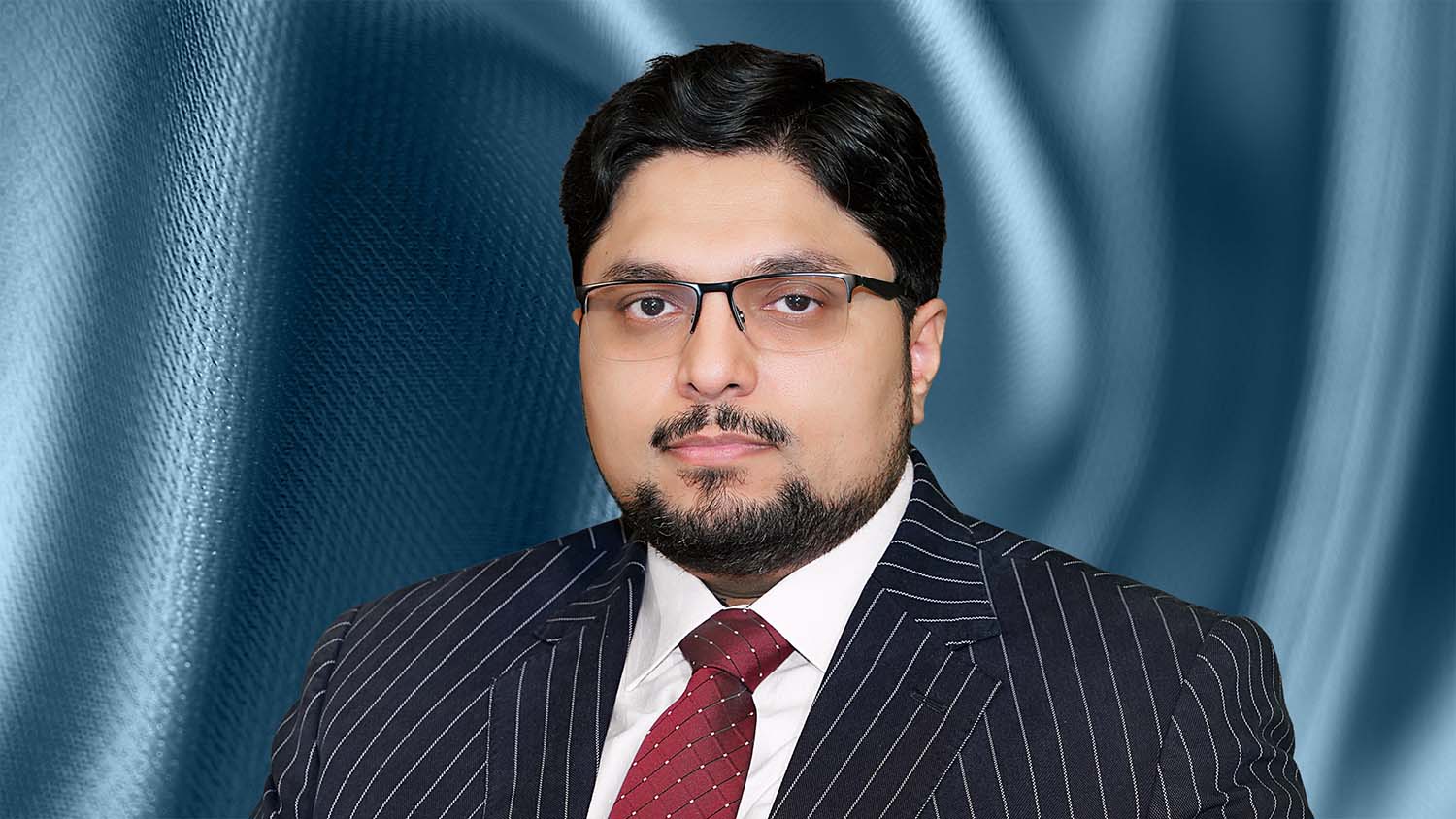 Dr Hussain Mohi-ud-Din Qadri is the deputy chairman of the board of governors of the Minhaj University, Lahore (MUL), and professor of economics in the school of economics and finance at the university. He is the president of Minhaj-ul-Quran International (MQI), the chairman of the Minhaj Education Society (running 610 schools and colleges all over Pakistan), the chairman of Aghosh Orphan Care Homes, the CEO of Al-Mawakhat Islamic Microfinance and the chairman of Minhaj Halal Certification, Pakistan. He is the author of fifty books, writer of dozens of research articles and reputed international speaker.
Dr Hussain Mohi-ud-Din Qadri was born in Lahore on 24 October 1982. He received his early education from Aitchison College, Lahore, one of the most prestigious educational institutions in Pakistan. Later he moved to Canada where he accomplished his undergraduate degree from York University, Toronto, with economics and political science as his majors. In 2005, he moved to France and received an MBA from Sciences Po, one of the top public universities in Paris. Upon his return to Pakistan in 2007, he worked with Lahore University of Management Sciences (LUMS) for a year. In 2008, he went to Australia in pursuit of a PhD in economics from Victoria University, Melbourne. During his studies at Victoria University, Melbourne, he was twice elected as a postgraduate student representative.
Furthermore, Dr Hussain Qadri earned an advanced certification in Corporate Sustainability and Innovation studies from Harvard University, the USA. In September 2019, he was given GIFA Special Award for his scholarly contributions in the field of Islamic economics and finance. Dr Hussain has been affiliated with the University of Melbourne, Australia, as a fellow since 2015 and as a senior fellow since 2020. He is also a member of the International Forum Committee (IFC)—a subsidiary of the Iranian Association of Islamic Finance (IAIF).
In addition to the acquisition of erudition in modern sciences, Dr Hussain Qadri has also received learning in Shariah and classical Islamic sciences from renowned and eminent scholars. One of his most competent teachers has been Shaykh-ul-Islam, Prof Dr Muhammad Tahir-ul-Qadri, his venerable father, who has also been his spiritual guide and source of inspiration.
His main areas of interest in Islamic sciences are: theology, Islamic thought, mysticism, Islamic jurisprudence, science of hadith, exegesis, ijtihad, Islamic philosophy, Islam and modern science, Islamic economics, finance and Islamic management. His other areas of interest are: modern economics, strategic economics, international trade, economics of natural resources, environmental economics, international relations, education, natural philosophy, interreligious studies, peace and counter-terrorism studies, management, finance, social psychology and space sciences.
1. Research Interests
International trade, trade competitiveness, Islamic economics, Islam on business ethics and management, Islamic banking and finance, economics of agriculture and natural resources, education, inter-faith dialogue, peace, integration and religious harmony.
2. Teaching Interests
Macroeconomics, international business and trade, agro-business, Islamic economics in comparison with capitalism and socialism, Islam and management.
3. His Creations and Innovations
At the Minhaj University, Lahore, Dr Hussain Mohi-ud-Din Qadri has founded a number of unique departments and institutions such as:
3.1 School of Peace and Counter-Terrorism Studies
It is the first university in Pakistan to have established a department of counter-terrorism studies.
3.2 School of Religion and Philosophy
This is another unique creation of Dr Hussain at the Minhaj University. This programme provides equal opportunities to all the religions of Pakistan, where believers of any faith can study their theology at the university level.
3.3 School of Islamic Economics, Banking and Finance
This school has emerged as one of the most significant seats of learning in Islamic economics and finance in Pakistan.
3.4 International Centre of Research in Islamic Economics (ICRIE)
This centre holds Pakistan's biggest and internationally-renowned academic conference annually to promote Islamic economics.
3.5 Minhaj Halal Certification
Dr Hussain Qadri founded Minhaj Halal Certification in 2018 in order to promote halal business and industrial ethics and standards in the country.
3.6 Al-Mawakhat Islamic Microfinance—A Social Enterprise
Dr Hussain founded Al-Mawakhat Islamic Microfinance, a social enterprise, in 2014 to alleviate poverty and tackle unemployment in the country through its interest-free microfinance products.
3.7 Research Journals
Dr Hussain has launched the following academic journals:
Journal of Professional Research in Social Sciences (JPRSS)
Minhaj Journal of Economics and Organization Science (MJEOS)
International Journal of Islamic Economics and Governance (IJIEG)
The South Asian Journal of Religion and Philosophy (SAJRP)
Zoraiz (a journal of professional research in languages and literature)
3.8 Chains of Schools and Colleges
Dr Hussain founded multiple chains of schools and colleges in Pakistan such as Laurel Home International Schools, Pak-Urdu Schools and Minhaj Colleges of Management and Technology.
3.9 Green Professional Technologies
This software house at the Minhaj University, Lahore, provides services such as digitalization, automation, business intelligence, mobile apps, web development, data analysis, business analytics, digital commerce, ERP & CRM solutions, career exploration and skills development.
3.10 Shaykh-ul-Islam Institute of Spiritual Studies
Dr Hussain has also set up Shaykh-ul-Islam Institute of Spiritual Studies. The purpose of this institution is to propagate the true spiritual aspects of Islam through academic and cultural activities. Instead of taking up the study of Islamic mysticism just as an academic subject, the students also live out spiritual practices.
4. Annual International Conferences held Under the Supervision of Dr Hussain Qadri
The following international conferences are held under the supervision of Dr Hussain Qadri in the Minhaj University, Lahore, on a yearly basis. These are the largest academic conferences of their kind in the country and are used in order to promote knowledge and research.
1. International Conference on Transformation of Knowledge Repository into Knowledge Economy
2. National Language and Literature Conference
3. International Conference on Science, Reason and Religion
4. World Islamic Economics and Finance Conference
5. Interviews at International Forums
Dr Hussain Mohi-ud-Din Qadri is an influential thought leader in Islamic finance, Islamic finance pedagogical expert and hands-on practitioner of Islamic finance. Dr Hussain Qadri has emerged as a true global opinion-maker in favour of Islamic banking and finance. He has been interviewed by many national and international TV channels and magazines. He has recently featured on the cover of August 2020 issue of ISFIRE, a bi-monthly world's influential magazine with a sharp analysis on global Islamic finance industry. ISFIRE highlights the achievements and success stories of leading institutions and individuals in Islamic banking and finance. As an official publication of Islamic Bankers Association (IBA), the magazine is widely distributed globally among Islamic banking and finance professionals.
6. Other Interests
Poetry, literature, social work, lecturing and article writing on social, political and economic issues; visited 50 countries to participate in global socio-economic, cultural and religious activities.
7. Affiliations
Member of the Economic Society of Australia
Member of the Economic Royal Society
Member of the International Society for the Sociology of Religion (ISSR)
Other than academic and literary books, Dr Hussain Qadri's articles on national, international, social, political and economic issues have been published in national and international newspapers and magazines.
Dr Hussain Qadri has served the country and contributed a major part in glorifying the name of Pakistan all over the globe.