The 40th foundation of MQI celebrated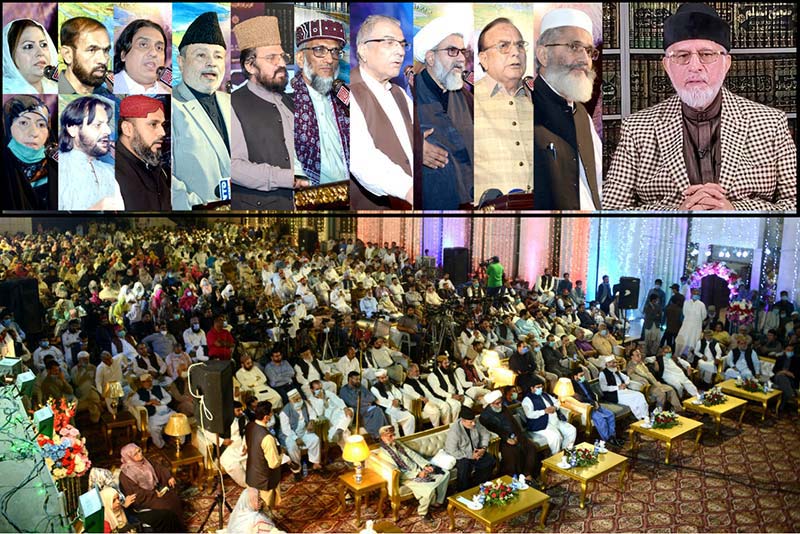 Addressing the ceremony marking the 40th foundation day of Minhaj-ul-Quran International, Shaykh-ul-Islam Dr Muhammad Tahir-ul-Qadri has said that MQI is an ideological movement. He said it is unfortunate that interests have taken the place of ideology today. He said that ideological movements have always faced resistance and even met with grave consequences. When violence and bloodletting were resorted to in the name of the revival of Islam. MQI, he said, spread the Islamic teachings of tolerance, moderation, and love. He said that we effectively responded to every effort to lump Islam with terrorism and foiled all conspiracies, both external and internal, with the power of knowledge and argument. He said MQI taught the youth to love books and pen, highlighted the women's rights in the light of the teachings of the Holy Quran and Sunnah, and adopted the path of research instead of emotions in the expression of religious affairs.
Amir Jamaat-e-Islami Senator Siraj-ul-Haq also addressed the foundation-day ceremony and said that we are proud of the scholarly services and contributions of Dr Tahir-ul-Qadri. He congratulated the MQI leadership and the workers on the 40th foundation day of MQI. He said Dr Qadri has effectively promoted the Islamic teachings in the language of the West by living in the West, stating that it is a huge service. He said Dr sahib followed the path of peace and tolerance, stating that together with him and MQI, we will make Pakistan an Islamic, welfare country in the real sense.
Senator Siraj-ul-Haq further said that he has a special relationship of mutual respect with Dr Tahir-ul-Qadri and prays for his long and healthy life as well as the progress of MQI. He said that his prayers are with Dr Qadri to complete the important task of writing books and spreading knowledge of Islam.
A documentary on the religious, social, welfare, educational, and spiritual services of MQI was shown in the foundation day ceremony. Chairman MQI Supreme Council Dr Hassan Mohi-ud-Din Qadri and President MQI Dr Hussain Mohi-ud-Din Qadri welcomed the honorable guests on their arrival at the central secretariat. Naib Nazim-e-Alaa Coordination Engineer Rafique Najam presented the welcome note. Allama Mir Asif Akbar, Waqas Khalid, Allama Ghulam Murtaza Alvi, and Sidra Karamat conducted the proceedings of the event. Renowned poet Anwar-ul-Mustafa Hamdami presented a poem, whereas the proceedings of the ceremony got underway with the recitation of the Holy Quran by Qari Noor Muhammad Chishti followed by Naats that Muhammad Afzal Noshahi and Hamza Noshahi had the honour to recite.
Addressing the ceremony, former Chief Minister Punjab Mian Manzoor Ahmad Wattoo said that Allah Almighty has blessed Dr Tahir-ul-Qadri with knowledge of the religion and the contemporary science, stating that he has great administrative qualities. He said the vast network of Islamic centres and organizations that MQI has established throughout the world speaks to the effectiveness of his leadership. He said Dr Tahir-ul-Qadri has promoted religious harmony and built bridges in an environment of extremism and sectarianism and supported every endeavor made by anyone for the establishment of peace and harmony.
Allama Raja Nasir Abbas, the head of Majlis Wahdat-ul-Muslameen (MWM), described Minhaj-ul-Quran as his home. He said Dr Tahir-ul-Qadri has imparted excellent training to his workers. He said when the oppressors besieged Model Town in 2014, the courage and steadfastness shown by children, women, and men belonging to MQI and PAT were exemplary. May MQI continue to progress and march ahead despite all the challenges. He said a movement whose roots are watered by the blood can never experience autumn.
Syed Ziaullah Shah Bokhari, the head of Muttahida Jamiat Ahle Hadith, said in his remarks that the students belonging to all schools of religious thought study in the educational institutions established under the banner of MQI. He said MQI does not belong to any single community but is home to all Muslims. He said wherever one goes, the graduates of Minhaj-ul-Quran educational institutions are to be found. He said it is today that the government and its institutions are talking about the need to promote interfaith harmony, Dr Tahir-ul-Qadri advanced this thought 40 years ago.
Senior journalist, TV analyst, and intellectual Mujeeb-ur-Rehman Shami congratulated Dr Tahir-ul-Qadri on the foundation day of MQI. He said there is no doubt about the fact that MQI has served Islam and humanity by rising above all narrow considerations and affiliations. He said he is convinced that the contributions made by MQI and Dr Tahir-ul-Qadri in different fields are exemplary. He said people acknowledge these services today and will continue to do so in the future as well. He said MQI has benefited the people of all age groups, adding that the educational institutions established by Dr Qadri are making a great contribution. He said these institutions are imparting education as well as moral training to the students. He said the successes that MQI is destined to achieve will keep appearing one after the other.
Religious leader Dr Abul Khair Muhammad Zubair said in his speech that MQI arranged an international interfaith conference in London following its establishment which was attended by religious scholars and Mashaykh. He said all the participants were stunned to see how a newly established organization had achieved such a feat. He said MQI started its work with the themes of knowledge and tolerance and has continued with the founding slogans. He said Dr Tahir-ul-Qadri has revived the scholarly culture of our ancestors. He prayed for the progress of MQI.
PPP leader Barrister Amir Hassan, while addressing the ceremony, said there are few people who dream; fewer still who struggle to realise the dreams and those who succeed in translating those dreams into reality are few and far between. He said Dr Tahir-ul-Qadri is counted among the last category. He said Dr Qadri has been the source of spreading good for society.
In his speech at the foundation day ceremony, Khawaja Moin-ud-Din Koreja, Pir of Kot Mitthan Sharif, congratulated Dr Tahir-ul-Qadri and the workers of MQI and said that Dr Qadri's thought is comprehensive. He not only foiled every attempt of associating Islam with terrorism and extremism but also revived the real spiritualism at the same time. He said Dr Tahir-ul-Qadri is the only personality in the present age who can establish an atmosphere of love, knowledge, and love by gathering the Mashaykh and religious scholars under one banner. He said Dr Qadri always spoke about human brotherhood, tolerance, and harmony, stating that it has been the practice of Sufis. He said personalities such as Dr Tahir-ul-Qadri are born after centuries and then the world conducts research on their achievements.
Sahibzada Allama Hussain Raza Qadri said in his speech that MQI has special divine blessings. It is a hub of sincerity where everything is done for the pleasure of Allah Almighty. He said Dr Tahir-ul-Qadri has written, with utmost devotion and reverence, to spread the love of the Holy Prophet (SAW) and holy companions.
Ms. Zahra Naqvi, a member of the provincial assembly, stated that four decades is a period of maturity of consciousness. She said MQI has many feats to its credit. She said Allah has stated that whosoever will do good deeds in a state of 'Iman' will be provided with a pious life. He said MQI has been successful in its mission of bringing piety and spiritual purification to human life. She congratulated Dr Tahir-ul-Qadri on the 40 years of MQI.
Renowned writer, poetess, and column writer Sofia Baidar said that she has been coming to the MQI secretariat for the last three decades. She said Dr Tahir-ul-Qadri is a great administrator and as a mentor, he has imparted moral and spiritual training to the people. She said Dr Qadri told us today that ideology has been replaced by interests and added in the same breath that the nations that do not have an ideology to hold on to lose their direction. She said this point should have been highlighted by today's politicians, intellectuals and writers but it is Dr Tahir-ul-Qadri who drew our attention to this historic intellectual crisis. She said the presence of such personalities is a blessing of Allah Almighty. She said Dr Tahir-ul-Qadri and his institutions are producing an educated generation.
At the conclusion of the foundation day ceremony, the cake was cut and the event came to an end with Dua led by Dr Tahir-ul-Qadri.